The most financially reliable audience can be found on Facebook. According to recent data, there are 2 age groups prevailing here: from 24 to 44 (67,9%) and 45+ (26,2%). As you see, 94.1% of Facebook users are adults. So, don't miss an opportunity to get in touch with such a great audience and sell them your products! This guide will explain to you how to create Facebook Business Page for this purpose.

As an example, we will show our demo store ikawaiishop.com.
To start Business Page creation, go to the main Facebook page, click on the arrow button in the top right corner and select 'Create page' option.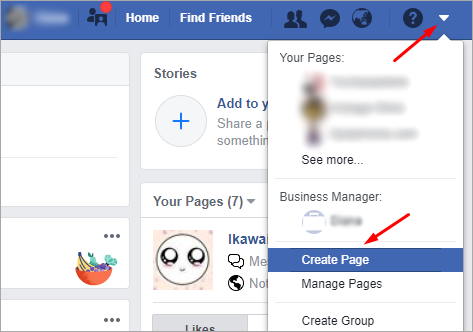 Step 1. Choose Business page category
The opened window will show you available Business Page types: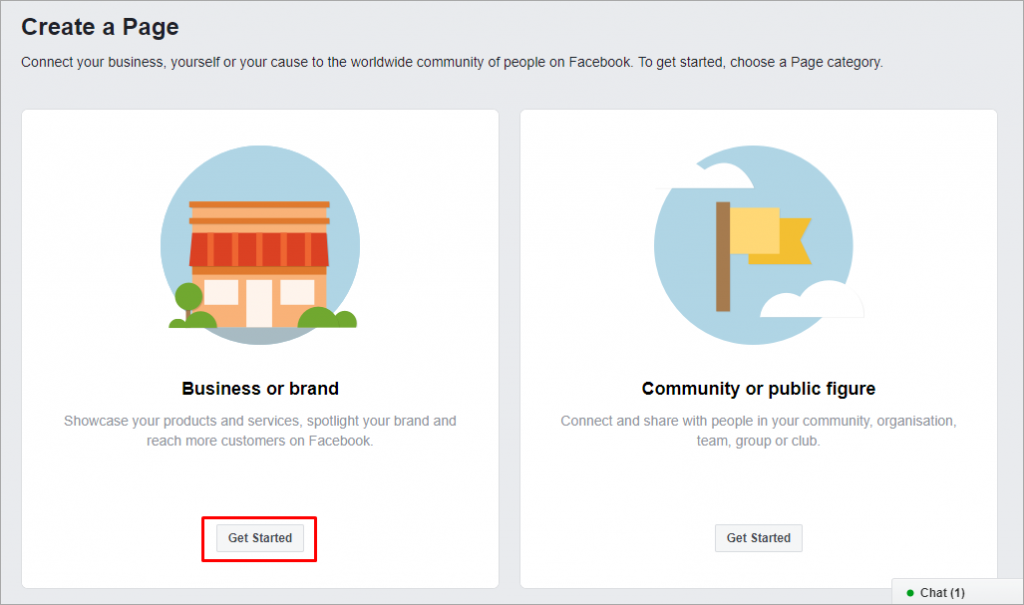 'Business or Brand' category is suitable for an online store – select it by clicking 'Get Started'.
Step 2. Make up your Business Page name
All in all, the reason why you create Business Page is to promote your ecommerce store. That's why you need to name this page after it.
This name will be shown on Business Page right under the avatar and in all posts you publish.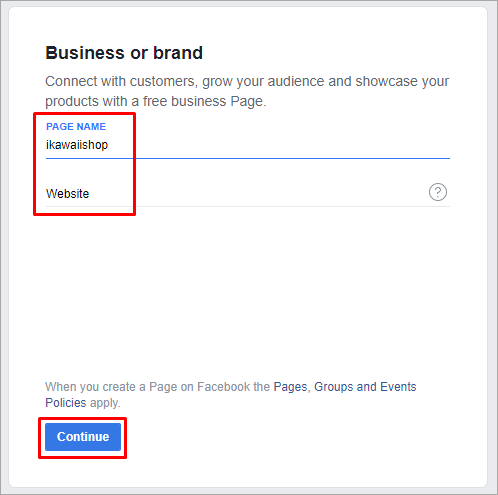 Step 3. Create a username for Business Page
In fact, a username is a web address (URL) of your Business Page. It is like a domain name of your site but only on Facebook.
For example, our Facebook username will be ikawaiishop.

What requirements usernames must meet:
A username should be available (not in use)
Only Latin letters, numerical symbols, and dots can be used
Maximum username length is 50 characters
To create a username, click 'Create Page @username'.

Enter a desired username in the opened window. If it's not in use and meet all requirements, you'll see a green tick icon on the right. Push 'Create Username' button.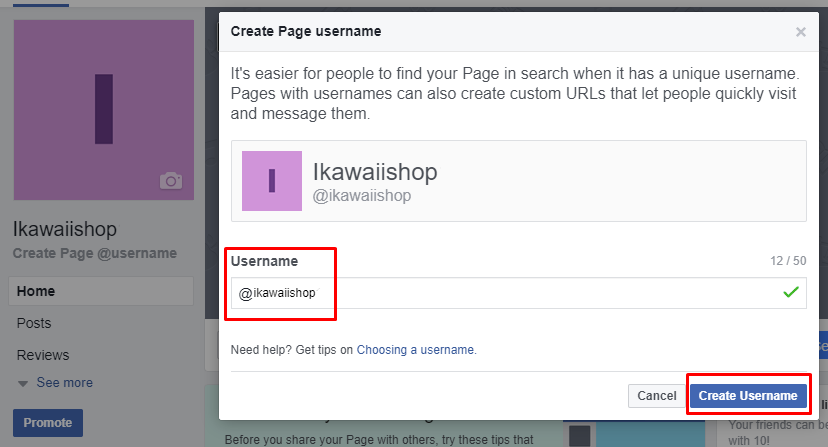 Step 4. Add your page info
Click on the opened tab and select 'Edit Page Info'.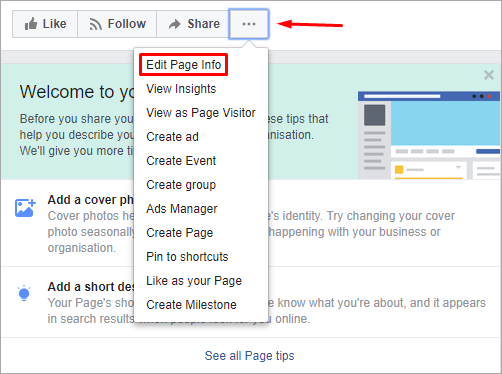 Fill in all necessary fields – info from them will be displayed on your Business page.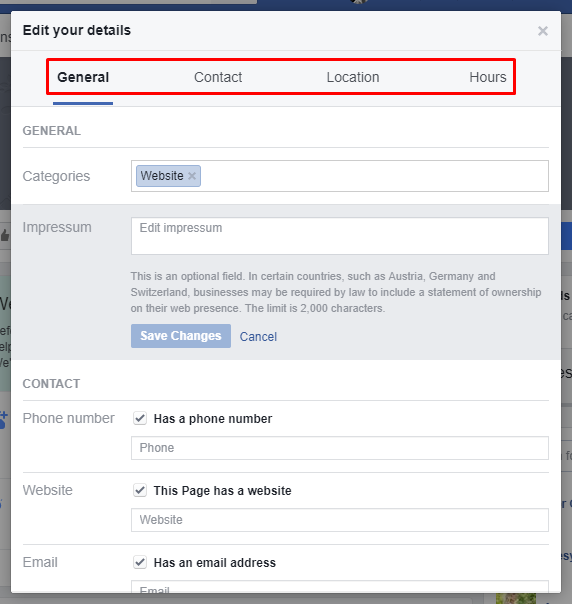 Select 'Always Open' in 'Hours' section as web stores are usually open 24/7.
Click 'See all information'.

You will see all the fields to fill out.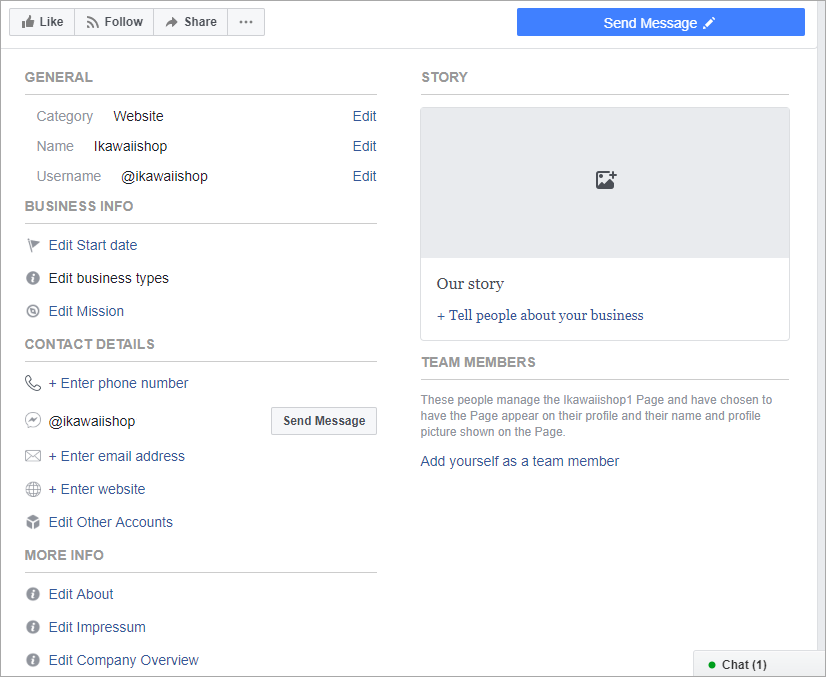 Step 5. Add photo and page cover
A photo is a pic displayed on the left of your page. As you're going to promote your dropshipping store with this page, put your store's logo as the photo.
Its size should be 170×170 px minimum (on a smartphone this photo will shrink to 128×128 px)
One of the most common problems you could face is the photo's quality. Facebook contracts it, so to get the photo of higher resolution, upload it in png format.
To add a photo, click 'Upload Photo'.

Then your photo avatar will appear on your page and in your timeline.

Besides your store's Business Page, this avatar will be displayed next to ads you will launch via Facebook as well as next to all published posts.
Page cover
When users visit your page, the cover is the first thing they see. So, with its help, you have 3-5 seconds to explain to people what your page is about (or what you offer here).
A right cover should tell about your store's focus and benefits.
As for our page cover, it says that ikawaiishop sells more than 200 items and has free shipping to 185 countries.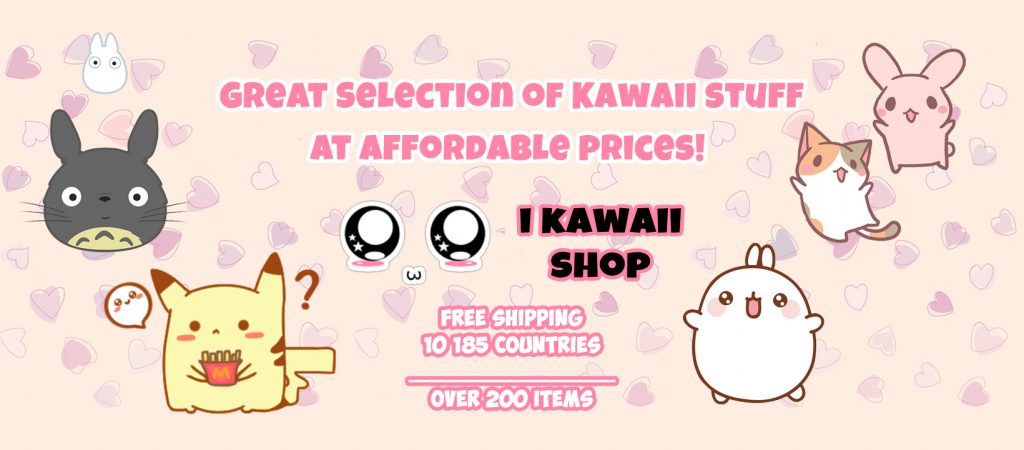 What's the size of Facebook page cover?
They changed page cover size in January 2017, so, at the moment, it is 820(W) x 312 (H) px.
If you visit the Facebook page from a smartphone, the cover will be cut to 560×312 px. Another part of the cover will not be seen.
To save the quality of the cover, upload it in png format.
Well, how to add the cover?
It's simple: click on 'Upload photo/video'.

Just upload a picture of the right size – and it will appear on the page and in the timeline.

If you want to get additional traffic to your site, click on your page avatar and cover and add the link to your site in the description.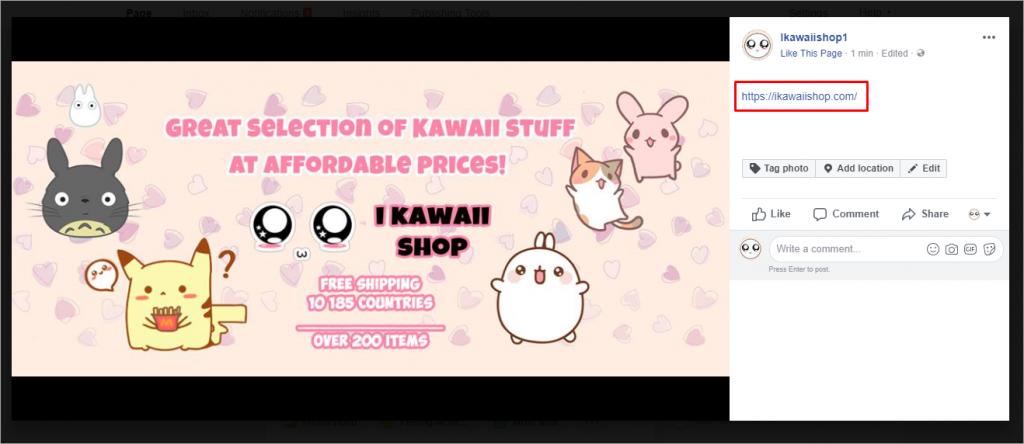 How to make a cover for a Business page?
If you don't have designing skills, you can use Canva service.
This free online editor offers free templates that you can edit according to your liking: change a pic, add icons, text, etc.
Step 6. Add call-to-action button
Facebook has 5 categories with 1 or more button variants in each (12 variants in total).
The most suitable button for a dropshipping store is 'To the shop'. To add this button, press 'Edit button'.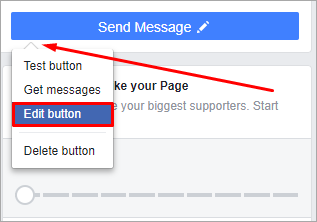 Choose the needed call to action and paste the link to your site.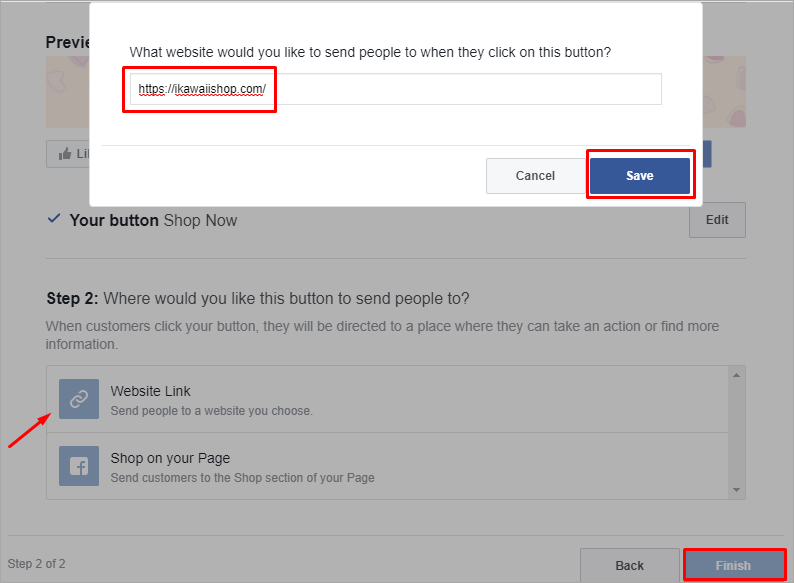 Step 7. Edit your page
To proceed to page editing settings, select 'Settings' tab in the top right corner.

Basic Business Page settings are in front of you.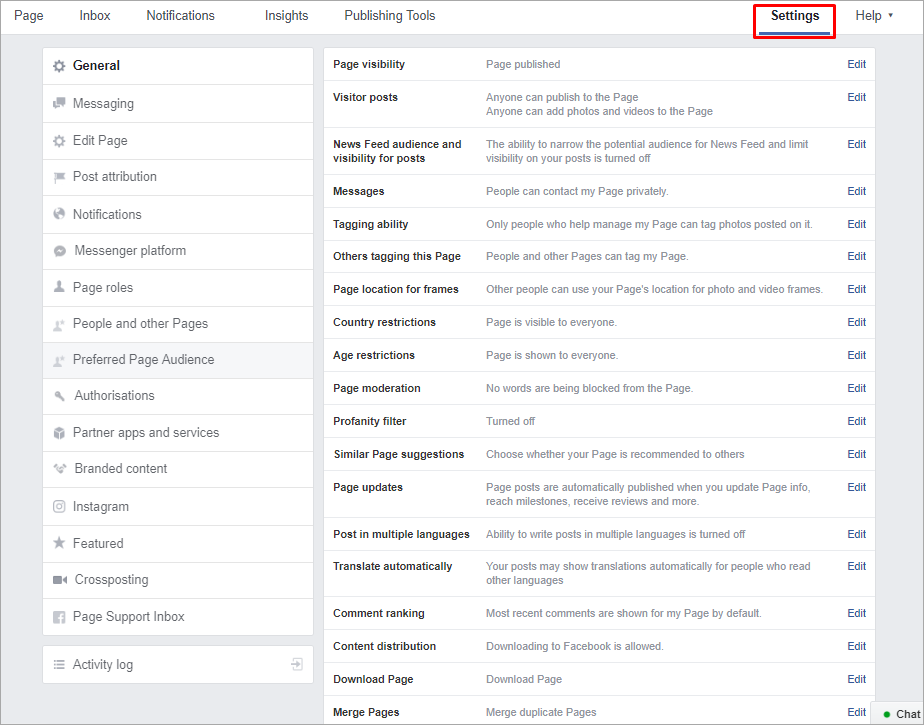 Oh! What to do with all this stuff and how to edit your page correctly?
Let's look more closely at the main settings you will need.
General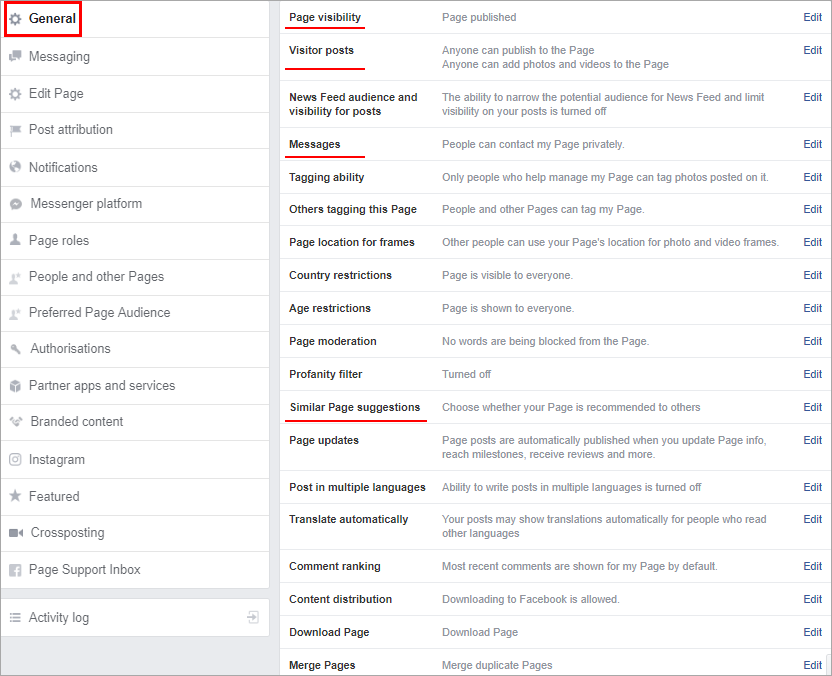 Page visibility
All created pages are available for the public by default. If you want to hide your page, change visibility status by clicking 'Edit'.
Visitor posts
You can prohibit or allow publishing to the page. We recommend to allow it – but put the tick 'Review posts before they appear on the page'.
Messages
We strongly encourage you to allow people to send you messages. Your page will display your response speed.
Similar pages suggestions
A user might follow some pages similar to yours, and he'll be offered to follow your page as well if you have this function turned on.
Messaging
If you've allowed users to send you messages, in this tab, you'll be able to create 3 types of automatic responses:
Send instant messages to anyone who messages your page
Stay responsive when you don't have access to your computer or phone
Show a Messenger greeting
You could edit and personalize these messages automatically inserting user's name and surname.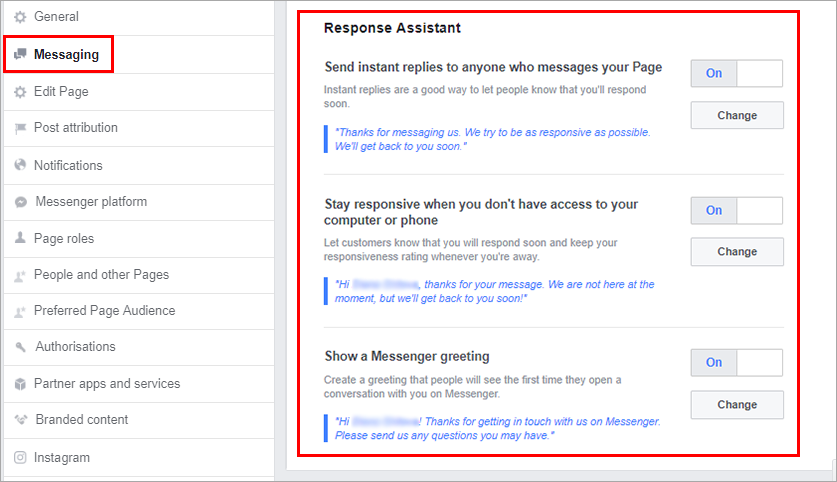 No doubt, this function is extremely convenient! Automatic responses kinda tell visitors that this page is "alive" and they are answered back – all this increases trustability.
Edit Page
On your page's left, there's a menu you can edit: add or delete menu items.

You can edit these items yourself or choose one of the suggested templates. We believe that the most suitable of them is the 'Shopping' template (at least, for a dropshipping / ecommerce store). To add a menu item to it, press 'Add a tab'.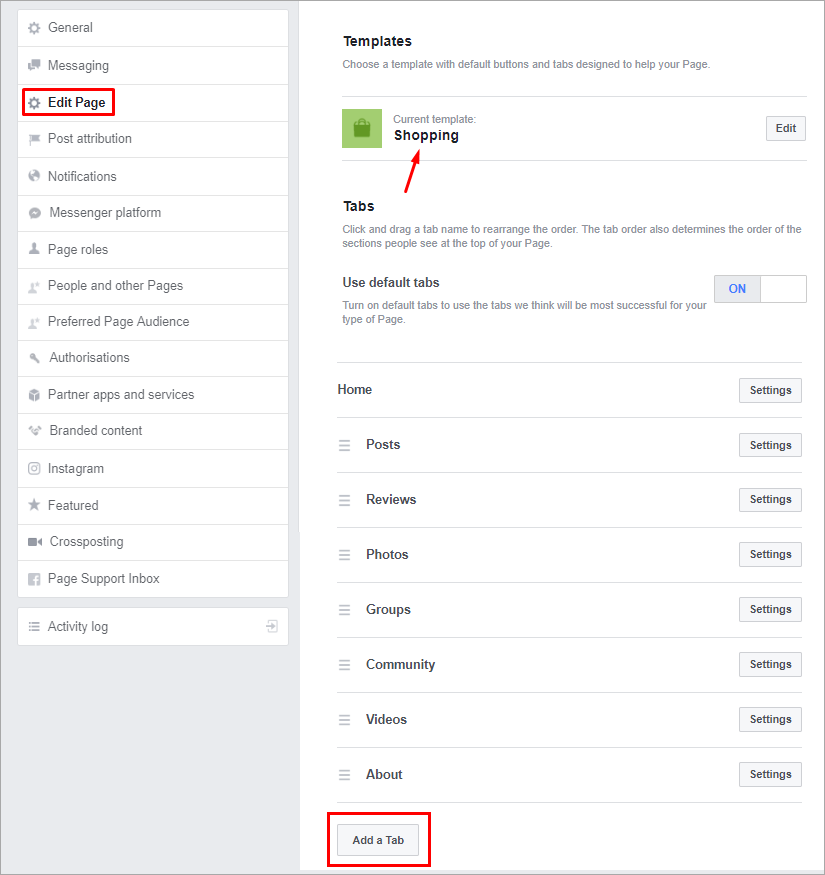 Now you can choose any additional tabs such as:
Events
Live Videos
Notes
Offers
Services
Shop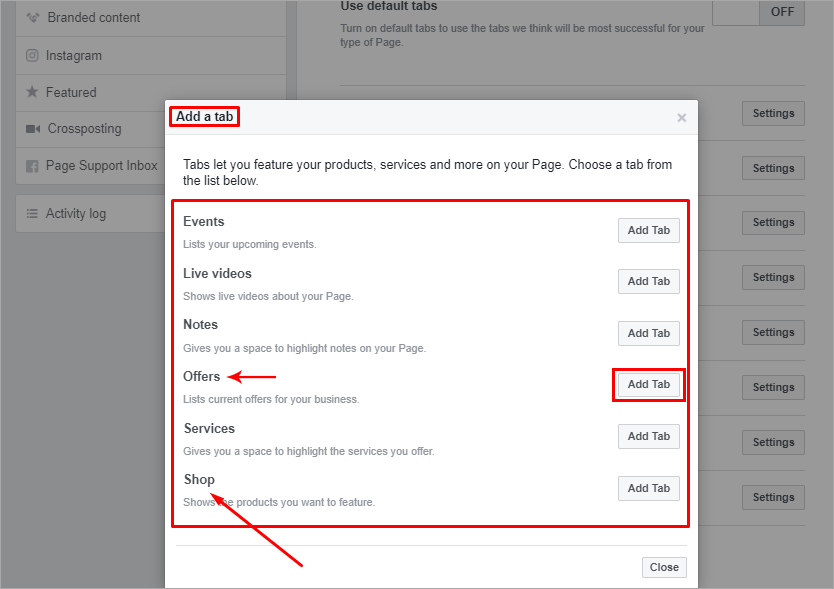 'Shop' and "Offers' menu items are described below:
Shop
With this section, you'll be able to place your products on your Business Page. When you add products to Facebook, they will be shown in this tab as well as in a separate section of your page.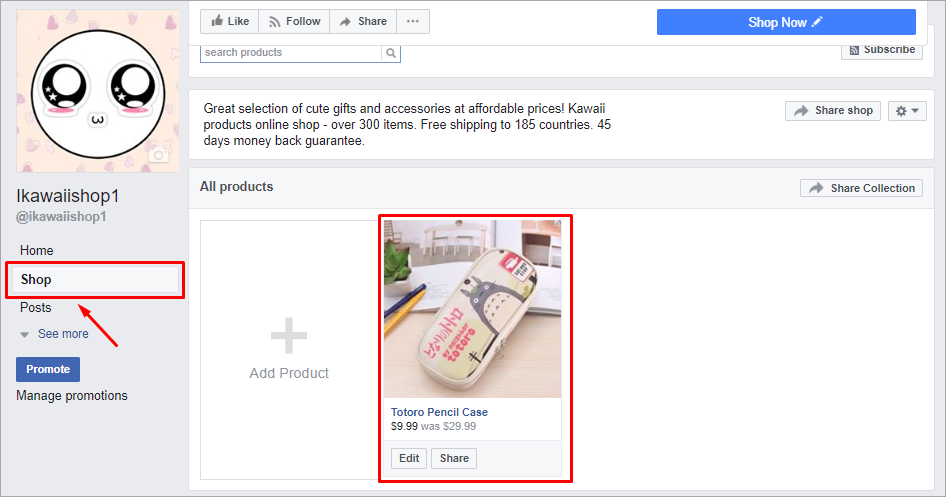 After a click on your product, a product card appears – it includes photo, title, price, description, 'send a message' button and the link to your site.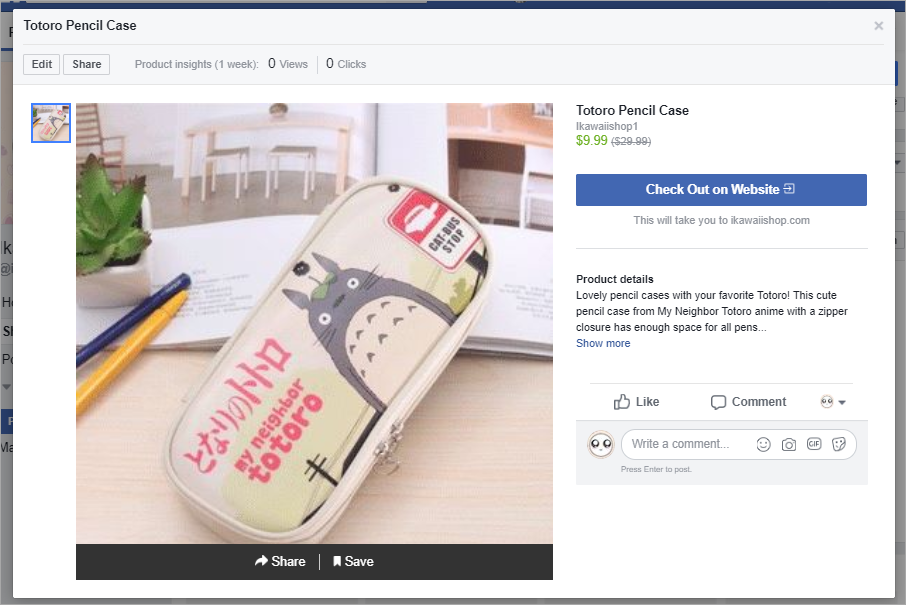 We advise you to add products to Facebook shop section – in this case, you'll attract more visitors to your site and get additional sales.
Offers
If you initiate sales or have special offers for your audience, make sure you use this feature.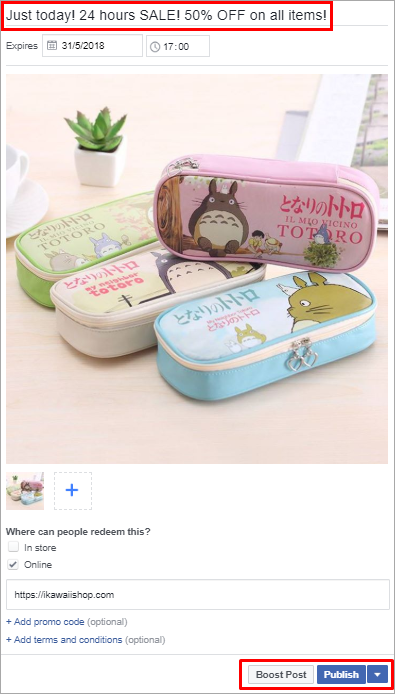 With 'Offers' section, you can create advertising publications and promote them.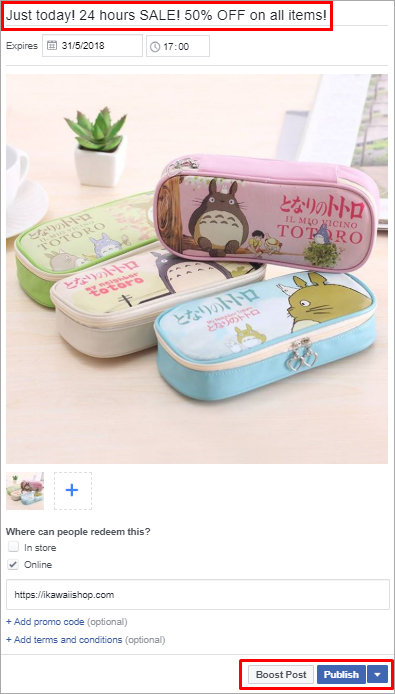 What we like about Offers is that you see how many people made use of them. Very handy!
The suggested menu items are not obligatory. If it's your first time creating a Business Page, we recommend you to fill in all the info and only then to start editing menu items.
Post attribution
All the posts on your page are published on their author's behalf (logo + name). So, it's time to decide on whose behalf you want to publish posts: your (your personal account's) or your page's.
As you try to promote your dropshipping store, choose 'Post as [yourstorename]'.

Page roles
After your Business Page creation, you automatically become its administrator – a person who has the total control of the page.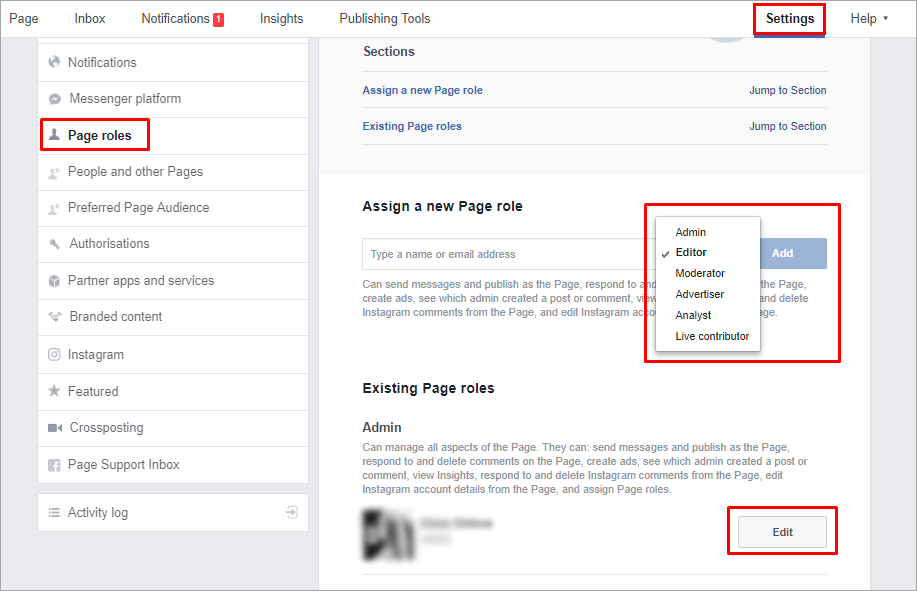 If you want other people to control this page as well – to post content, for example – you can assign them special roles:
Admin
Editor
Moderator
Advertiser
Analyst
Live Contributor
Each role gives certain authorities. For example, an editor is entitled to publish posts and answer comments; an advertiser, in his turn, is allowed to create and run ads but post publishing is not available for him.
Under no circumstances give someone your administrator role. Otherwise, a new administrator might get full control of the page, unassign your role and delete the page.
Instagram
It's simple: all you need is to connect your Instagram account to your Facebook Business Page. Just log in and enter your login and password.
If you don't have an Instagram account, you can create one right here.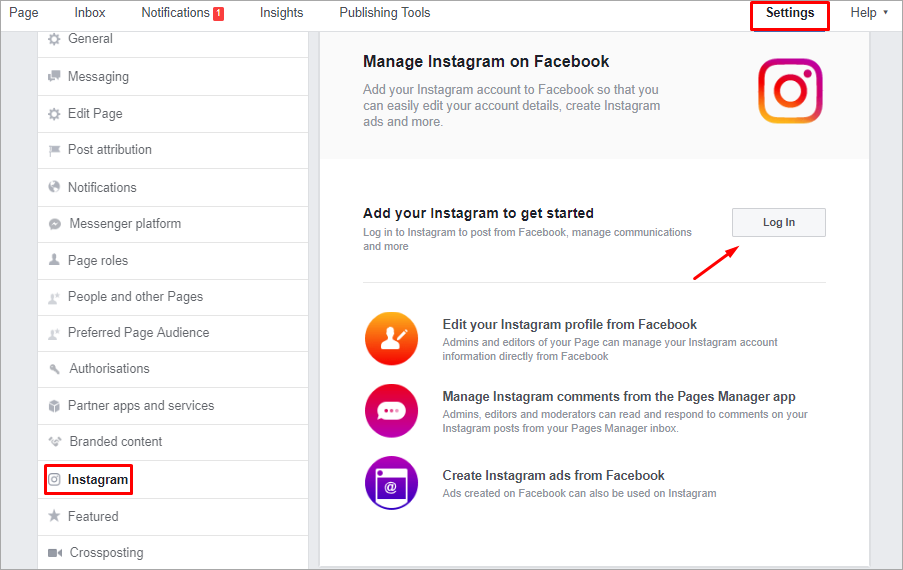 Yay!
You've created a Business Page, but there's no sense in promoting it or wait for any followers when it's empty.
Step 8. Add posts to your page.
First, create some posts your audience would like: for example, tell them about products you sell and special discounts.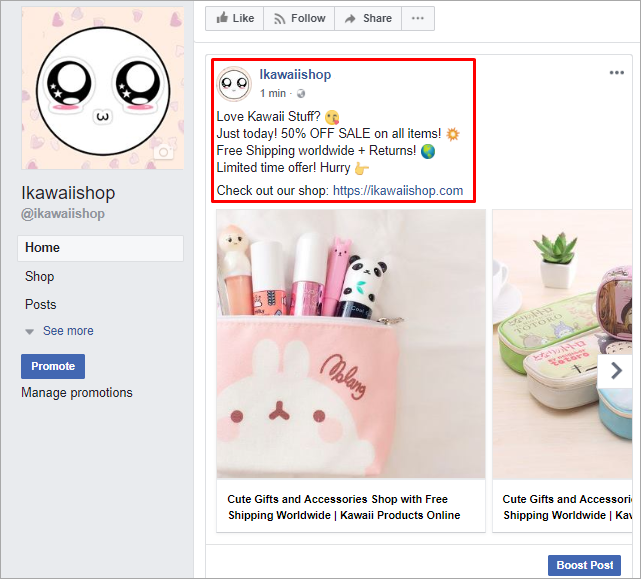 Don't forget to entertain your page visitors and make nice posts that would relate to your store theme.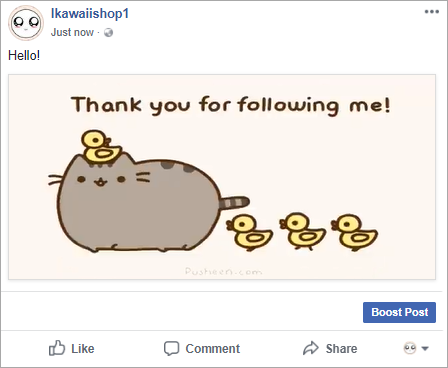 Step 9. Like your page and invite friends to subscribe
If your page is not published yet, it's high time to do that to get your first followers.
Like your page from your personal account
Your friends will see that you like this page and some of them might follow it (this will work if you have many followers).
Invite your friends to follow this page
Just go to the main page, and you'll see your friends list with 'Invite' buttons. Click on those buttons to send personal invitations.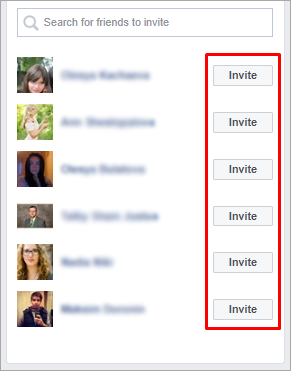 Congratulations! Now you not only have a Business Page but first followers as well!
If you want to know how to use your new-made Business Page to attract more customers to your site, read this article.
Conclusion
So, to create a Facebook Business Page for a dropshipping store, 9 steps have to be taken:
Step 1. Choose Business page category (type)
Step 2. Make up your Business Page name
Step 3. Create a username for Business Page
Step 4. Add your page info
Step 5. Add photo and page cover
Step 6. Add call-to-action button
Step 7. Edit your page
Step 8. Add posts to your page.
Step 9. Like your page and invite friends to subscribe
Facebook Business Page will help you to build strong relationships with your subscribers, launch ads and get new clients for your store.
Create and set up your store accounts in social networks: Instagram Business Account
Instagram is a perfect place to promote your dropshipping store. It focuses on a visual content, so you can safely boast of your product variety here. To create and edit an Instagram account is the first step of your store promotion. This article will tell you how to create and edit your store Instagram account and switch to Business one. Let's start!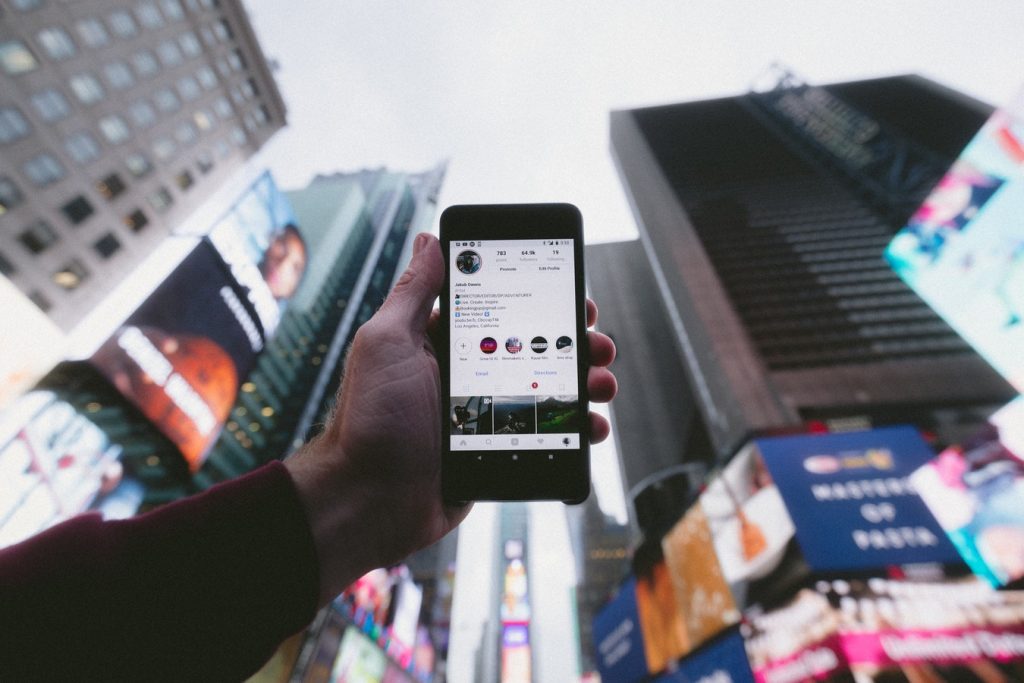 You can create an Instagram account in Instagram app on your phone or in its desktop version.
Sign in using your phone number or email. Then enter a full name. As it's your store's account, so enter a complete name of your store here.
Username is a nickname that will be displayed in your profile, comments, and ads. So, make it up – but if it's already in use, try adding underscore – '_' mark – or other available symbols to make it different.
What mobile registration looks like: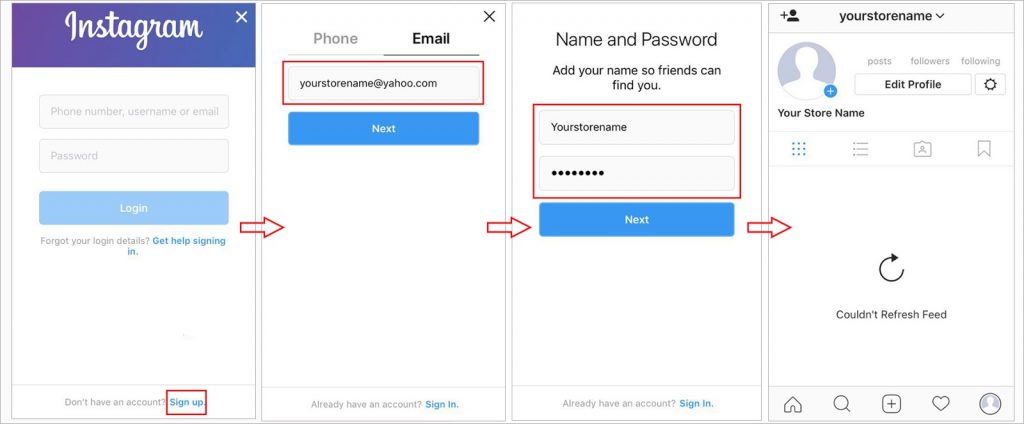 Desktop registration: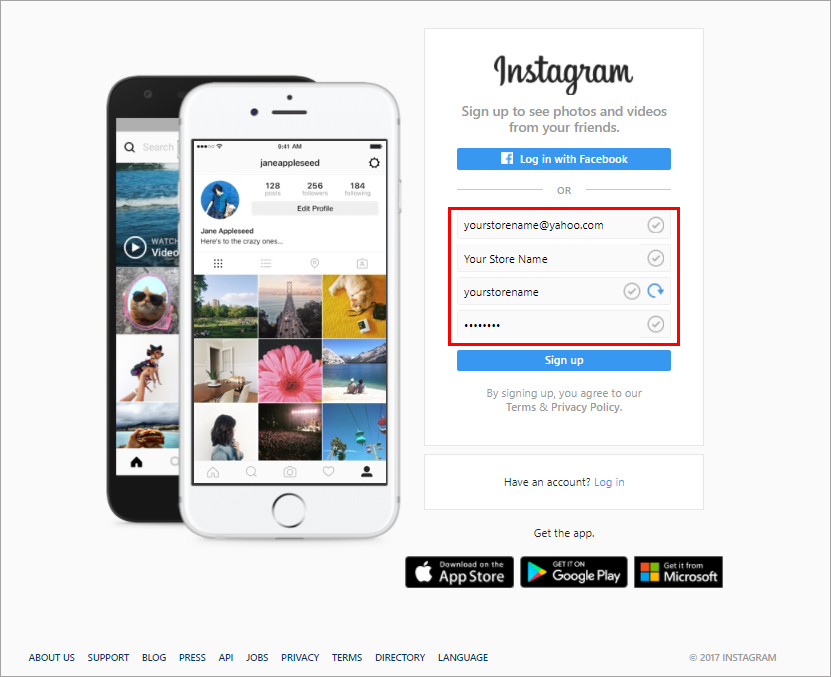 Having completed registration, enter your phone number to get a security code. Type it in the field and click 'Submit'.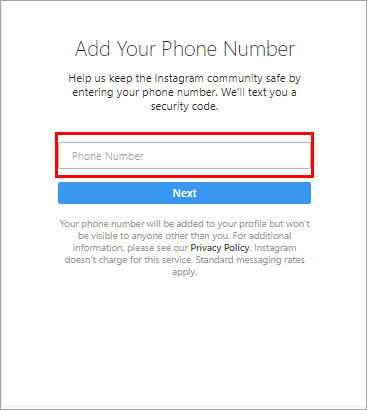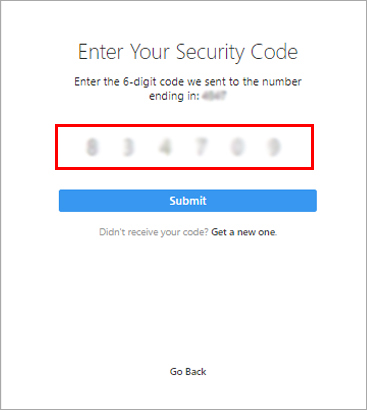 Hooray! You've created your store Instagram account. Let's edit it and add more info – you can do it from either your phone or your computer. Press 'Edit profile' button.
Mobile app: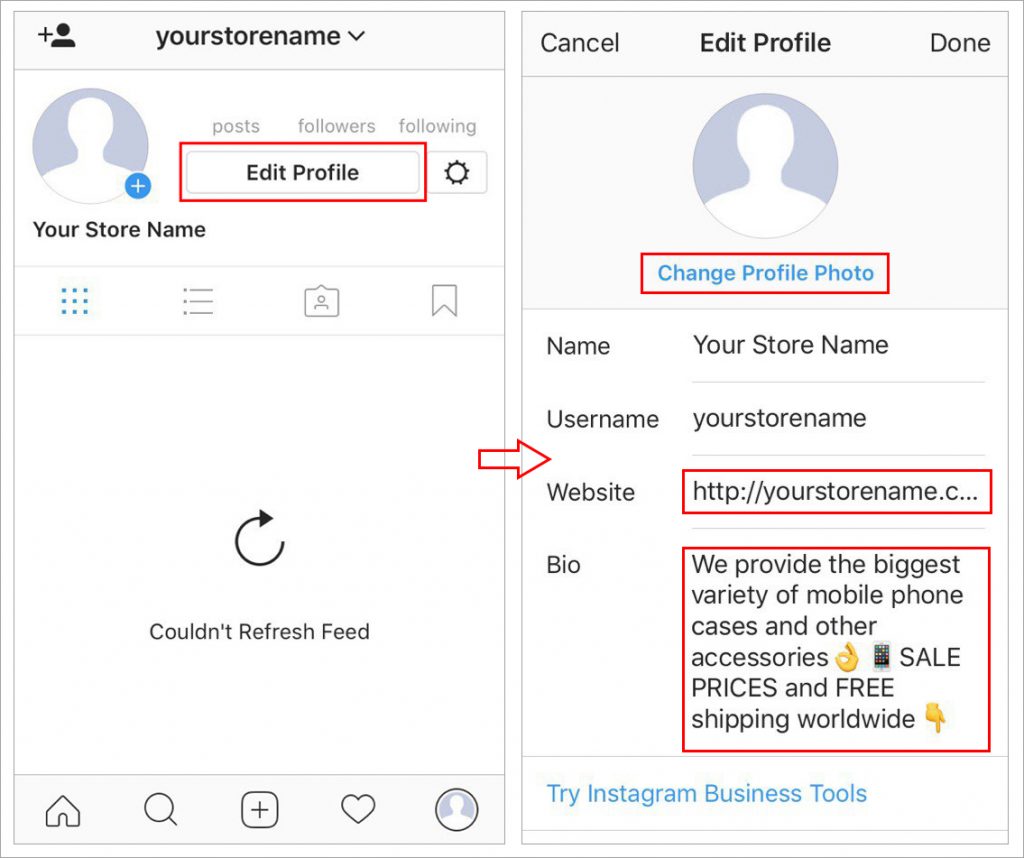 Desktop: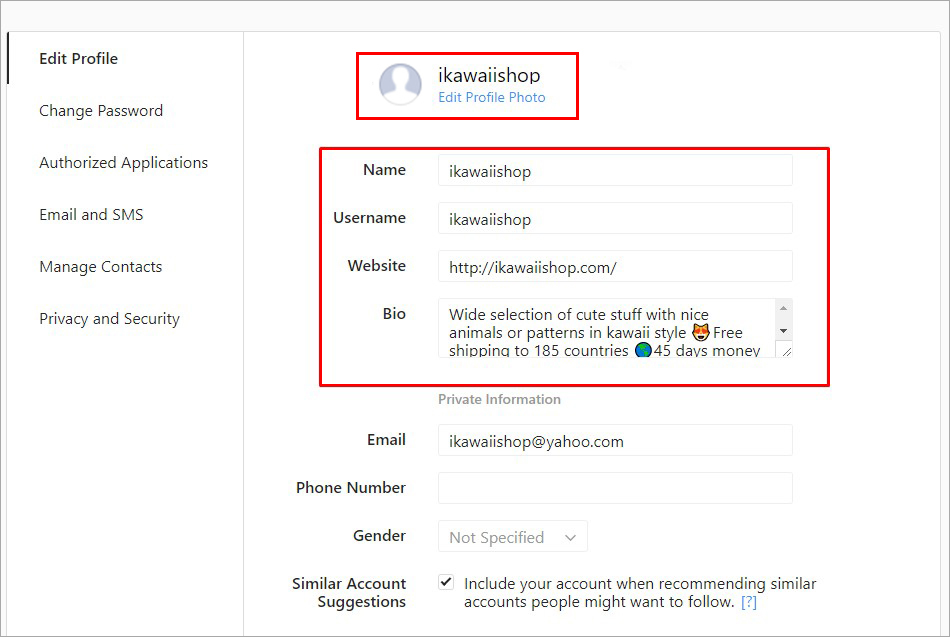 After proper editing, your profile should look like this: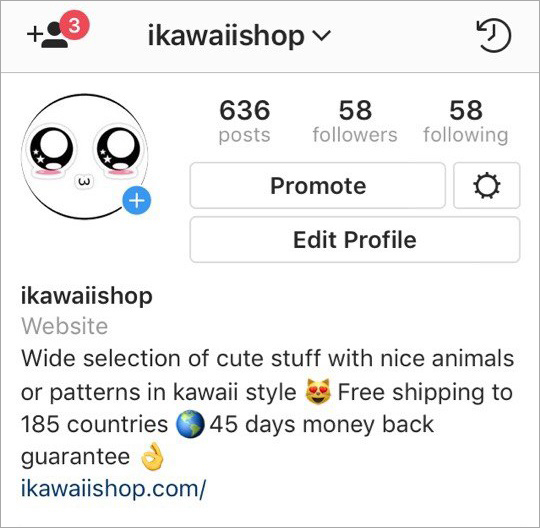 On desktop:

You can connect your account with Social Rabbit Plugin and set automated content posting and users following.
Let's move on to Business account creation now.
What is a Business account and what benefits does it have?
Business account is the profile of your dropshipping store on Instagram.
Why do we need a business account if we already have a usual one?
Well, a Business account gives you an access to powerful functions that will let you:
Increase your followers' engagement
Enlarge traffic to your dropshipping store
Boost your sales
Understand what types of posts are the most effective
Get more and more followers
Those powerful functions are:
You can place one of 5 available buttons in your profile – for example, a 'Call' button that will let visitors contact you at once to ask their questions.
Account insights
Statistics will show you what posts have the biggest engagement, who are your followers (their gender, age, location), how many people viewed your profile or clicked on your link, etc.
Post promotion and ads creation
Business account suggests promotion of your posts according to chosen targeting parameters: age, gender, location, interests of the audience.
This function alone is worth switching to Business account – it's really a cool one.
Your company physical address
To form trust-based relationships with your customers, you can place your company physical address in your profile.
Profile category choice
Choose the most suitable category of your store: brand, online store, etc so users can easily understand what's your profile is about.
Step 1. Create a Facebook Business account (page).
Business Page is a page of your dropshipping store on Facebook (not to be confused with your personal account), and you won't be able to switch to Instagram Business account without it.
You can create and adjust such a page in mere minutes (if you don't edit it). Go to Facebook, click on the arrow button and choose 'Create page'. Further steps of Business Page creating and editing you'll see here.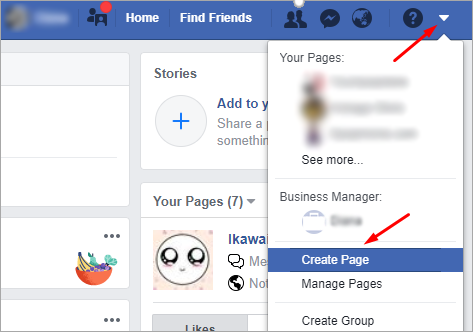 After you've created a new FB page, you automatically become its administrator. If somebody created this page for you, ask this person to assign you the administrator role.
Step 2. Switch your store Instagram account to a Business one.
In Instagram app, go to the menu and choose 'Switch to Business Profile'.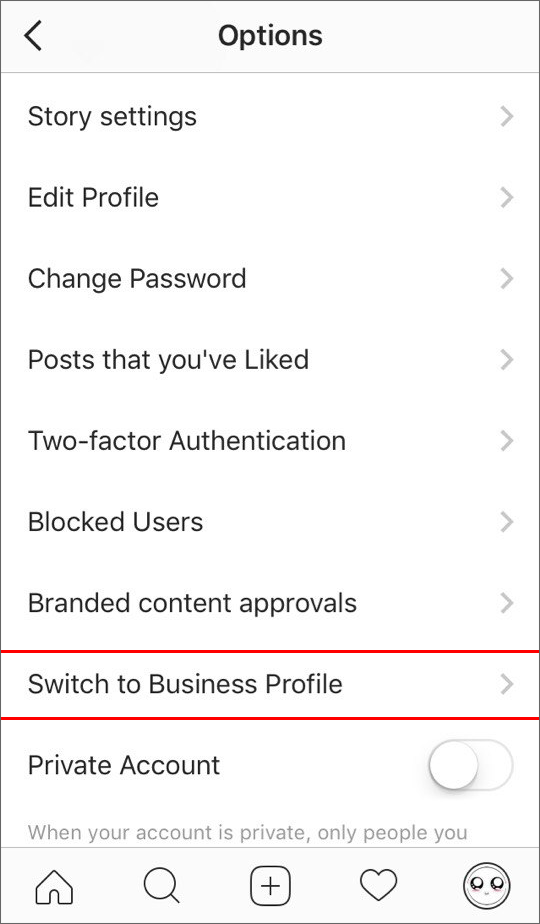 Press 'Continue'.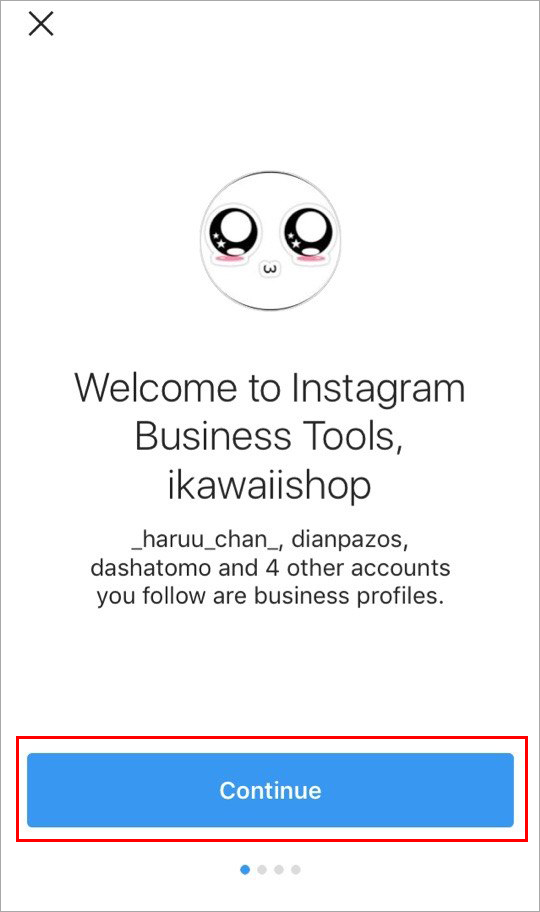 Select 'Choose Page'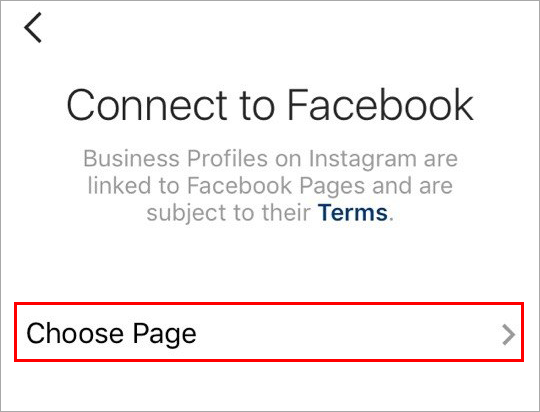 Choose the business page you've made on Facebook for your store. Easy-peezy!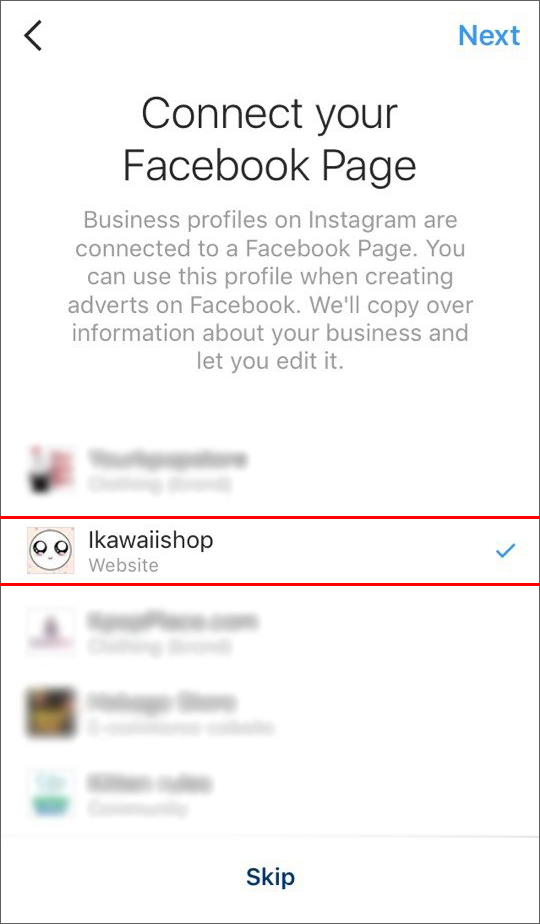 Step 3. Edit your new-made Instagram Business profile
Fill in email, phone number and address fields. This info will be available for your Business Profile visitors.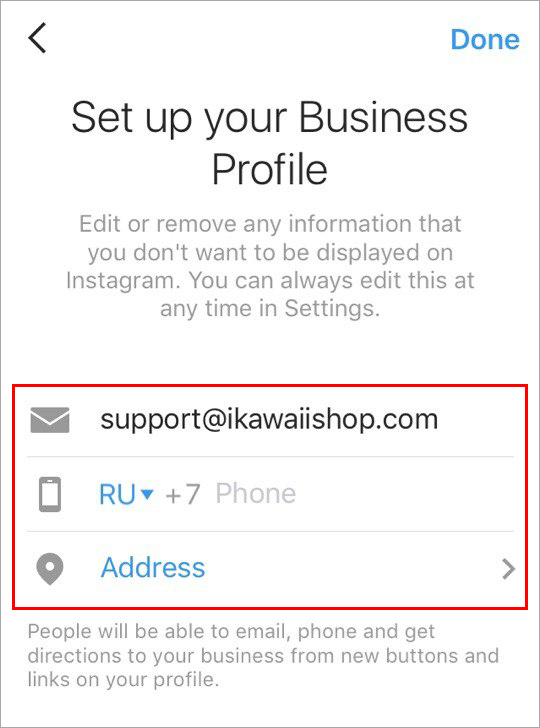 Is it allowed to leave these fields empty?
It depends on your Business Account purpose, the way you sell products to customers and communicate with them.
For instance, if you have an online store and sell only online, fill in your email and phone number (or at least one of them – as a method of communication). Add your store address for trustability if you like.
Press 'Done' button!
Well done! You've just created Instagram Business Account!
Now let's see how to make use of possibilities that this account gives.
Profile insights
These statistics provide comprehensive data on your account performance. To take a look at it, press a little chart button.

The insights include:
General info about your account
Data on followers
Posts/Stories statistics
Your promotions (ads)
NB: Insights provide data only on those posts that you published after switching to Business account.
Insights include your profile statistics for the week – impressions, reach, profile view, website clicks, clicks to email.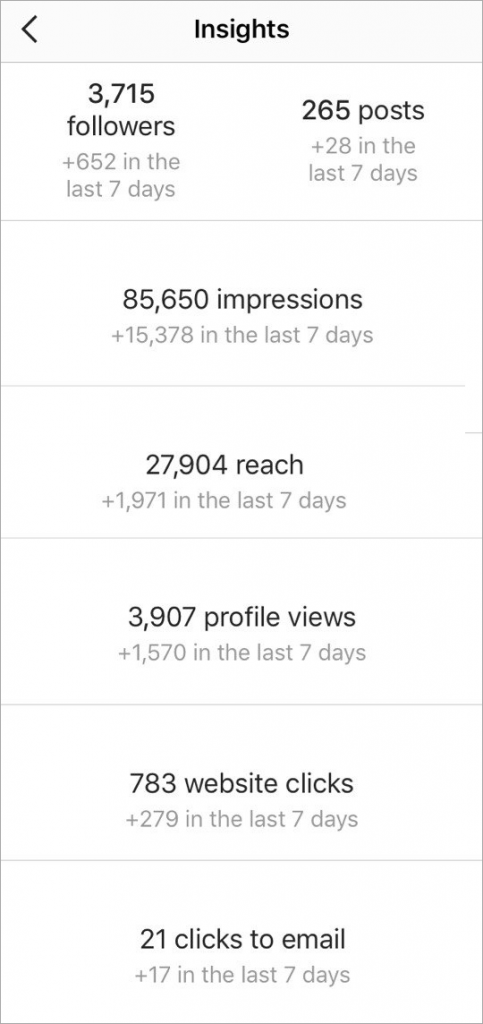 Audience section displays extensive data about your followers.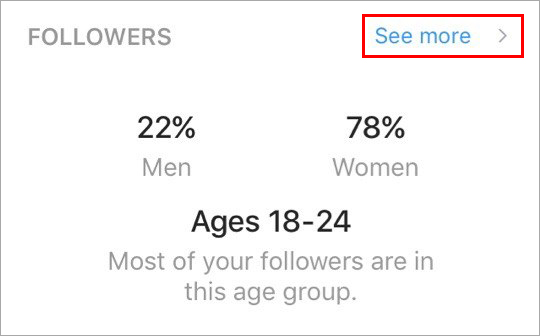 Demographics – gender and age. Here you'll see who visits your page – this info will definitely help you understand for whom you make posts and how to find a special approach to your audience.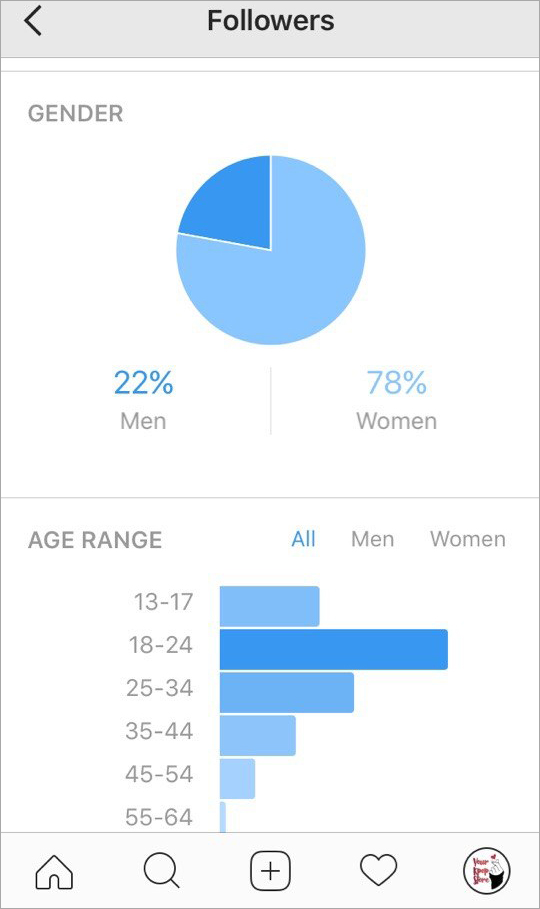 Top locations (geodata) – cities and countries residents of which visit your account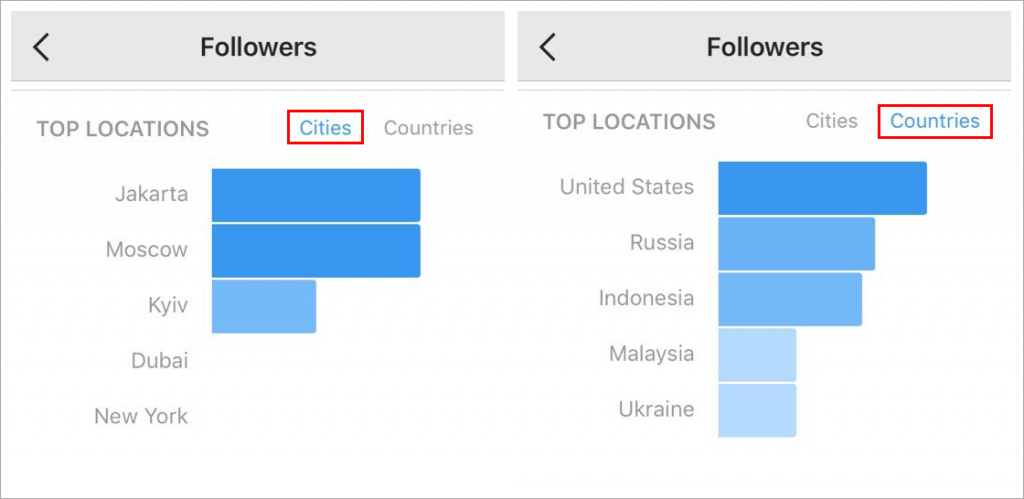 Traffic data – hours and days when your account is the most crowded.

The content section shows insights for each post separately or even sort them by chosen characteristics.
But first things first!
Post insights tell you how many people were reached, number of likes, comments, and savings. To view this info, press 'View Insights'.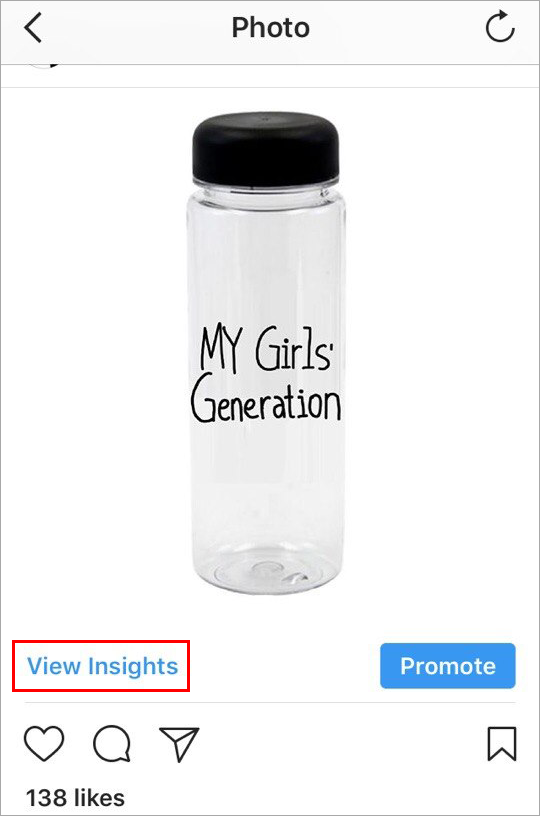 Press on the opened insights and you'll be able to dive in more detailed analytics of your account and understand which posts are the most effective. Compare such effective posts and detect common features.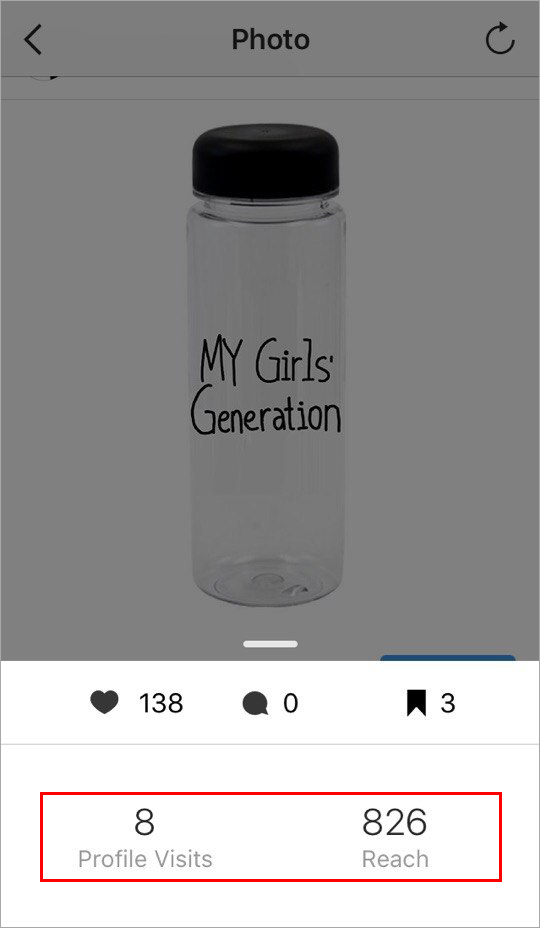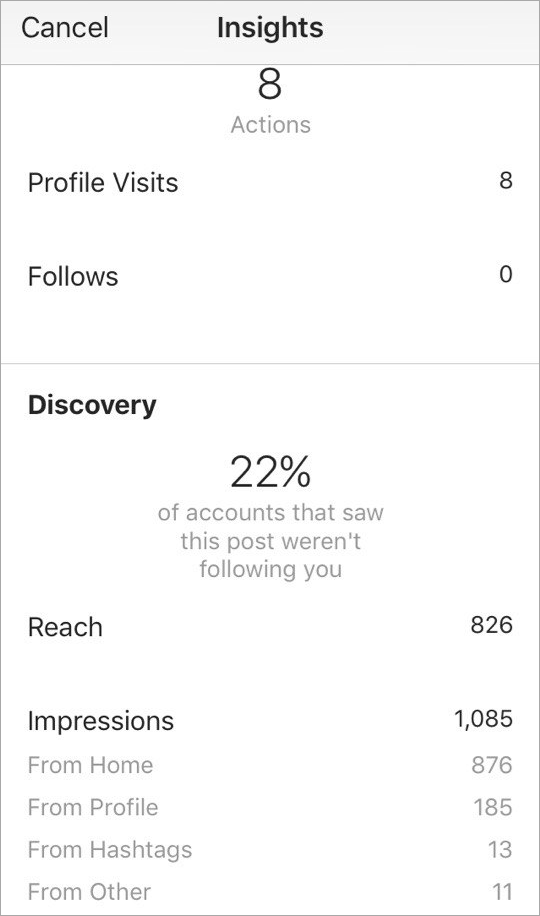 What posts to analyze: all posts, photo, video, carousel. Having studied them, you'll see the number of impressions, reach, new followers, visitors from hashtags/profile, etc.
Such an analysis will help you keep creating cool posts in the future, increase engagement rate (ER) – and boost sales, of course!
Now you have a step-by-step instruction and necessary knowledge on how to create an Instagram Business profile. So, what are you waiting for? Create a store Instagram profile for your store right away! With its help, you'll start attracting more and more customers and getting a real profit!
P.S. If you're interested in our experience in Instagram ads, check this article. And if you're interested in getting ready ads for your store, check this service.
Create and set up your store accounts in social networks: Twitter
Twitter is a platform that allows sending short messages (up to 140 characters) called twits to your followers. You can attach any photos, videos, and links leading to blogs, websites, and documents here.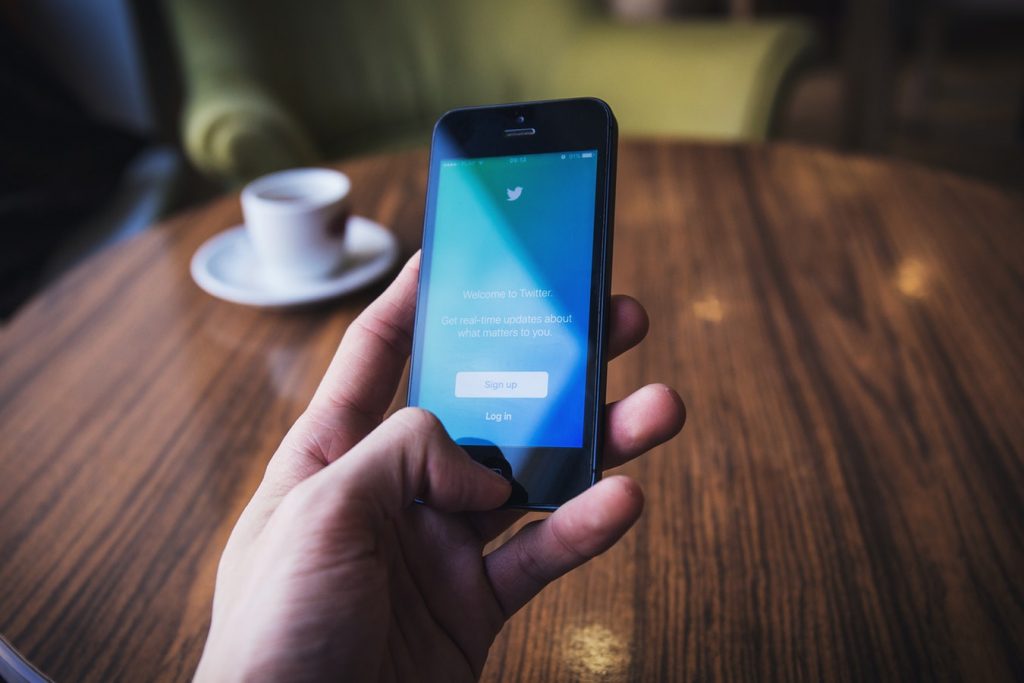 With Twitter, you can promote your store in real-time mode. And the best part – promotion won't require any additional costs! Cos it would be a mistake to lose the opportunity of free promotion, we created this simple instruction on how to create and edit a Twitter account for your store.
Step 1. Create a profile.
Open twitter.com, click 'Sign Up' to create a profile for your dropshipping store.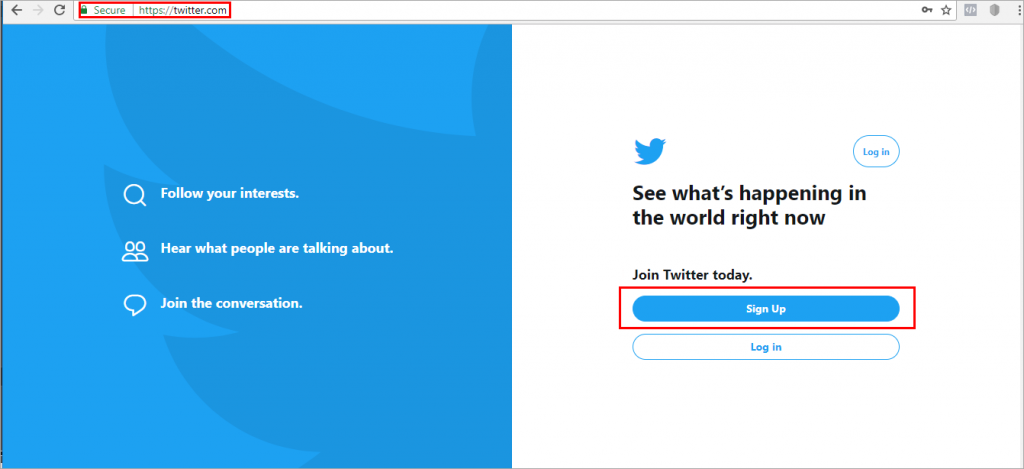 Enter your profile name. We do it for our shop, so we called the profile ikawaiishopcom.
You can change profile name in settings later. Enter an email or a phone number.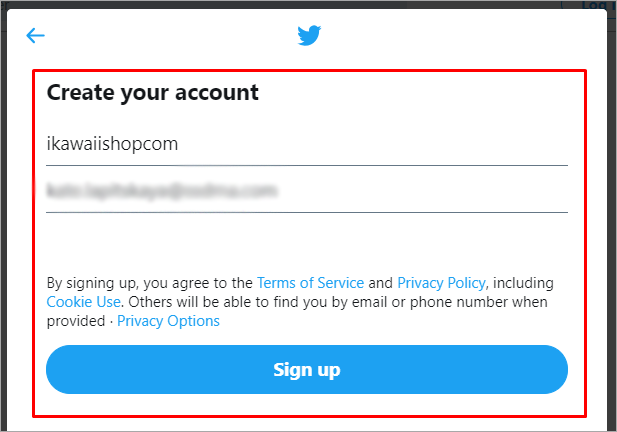 Press 'Sign Up' button. Make up a password to login your account.

Step 2. Edit your profile and make it look nice
Profile photo
It's important to keep corporate identity in all social network accounts of your store, so try to pick the same logos, photos and names for all your store accounts. This will increase trustability of users, make them get used to your store and easily identify it.
Twitter offers 2 photos to create your store style – a profile avatar and a header photo.
Profile avatar is of a square-shaped photo (that will be round then) that displays next to every twit you publish. Use your store logo as an avatar. Just click on your profile icon and choose 'Profile' section.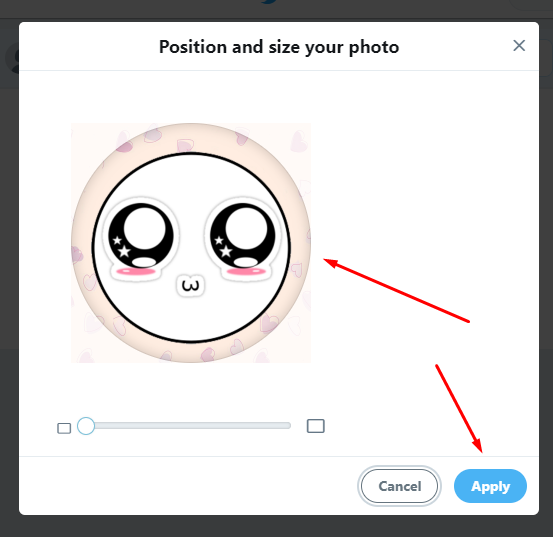 Click ''Apply.
Header photo
Header photo is a big background image at the top of your profile that kinda tells more about your store. Press 'Add a header photo' to upload it.

Don't forget to click 'Apply'.

Profile description
You can change your store name here if you want. But remember – it should coincide with your store name so all Twitter users could easily find your store and identify it.
Profile description also includes brief info about your store – a couple of sentences telling what your store is about, your store location (choose the country) and the link to your store site. Fill everything in.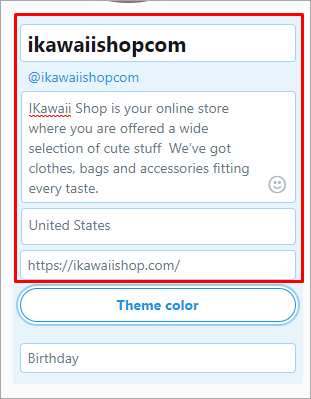 This is what your store looks like when you've uploaded photos and added a description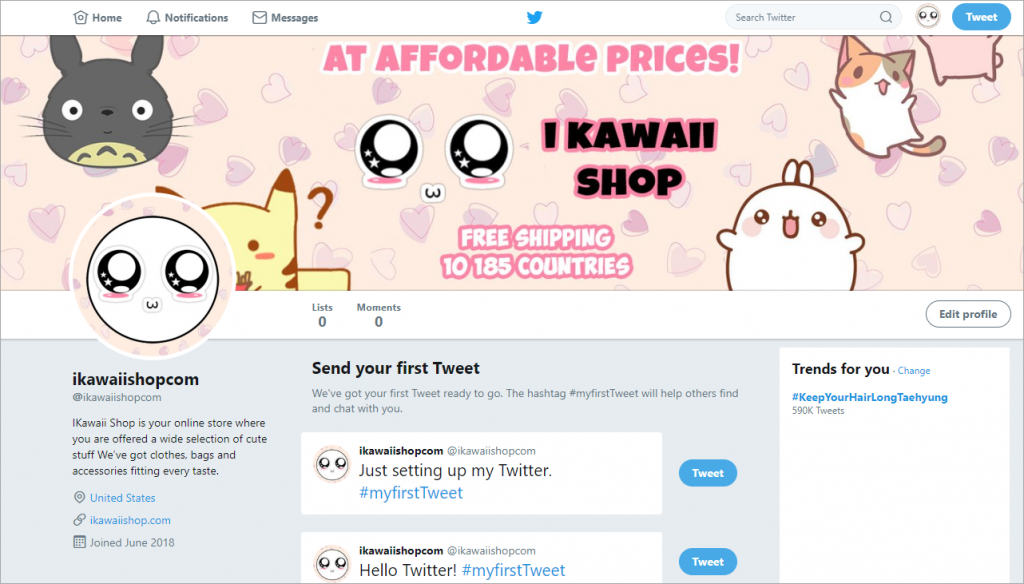 Settings and Privacy
This section allows to manage your account – change profile name, password, email or phone number connected to account, language, set notifications, etc.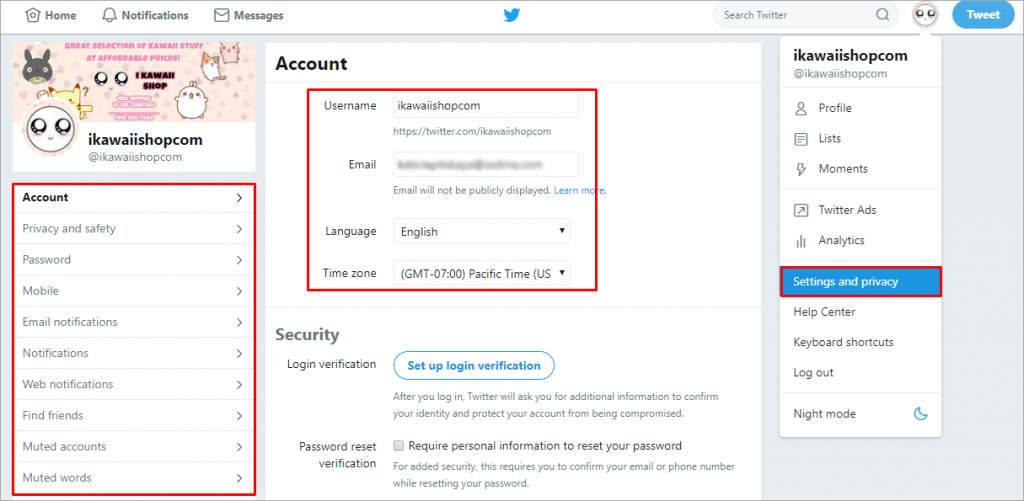 Step 3. Follow other users
Subscribe to the pages that have the same theme as your store has. Try to find popular profiles with dozens of thousands or even millions of followers to show your store this way.
Note: Twitter has some strict regulations on aggressive following and aggressive manner of adding users to lists (it means in bulk in a short period of time). So, be careful and don't follow too many accounts at once if you don't want your new-made account to be blocked.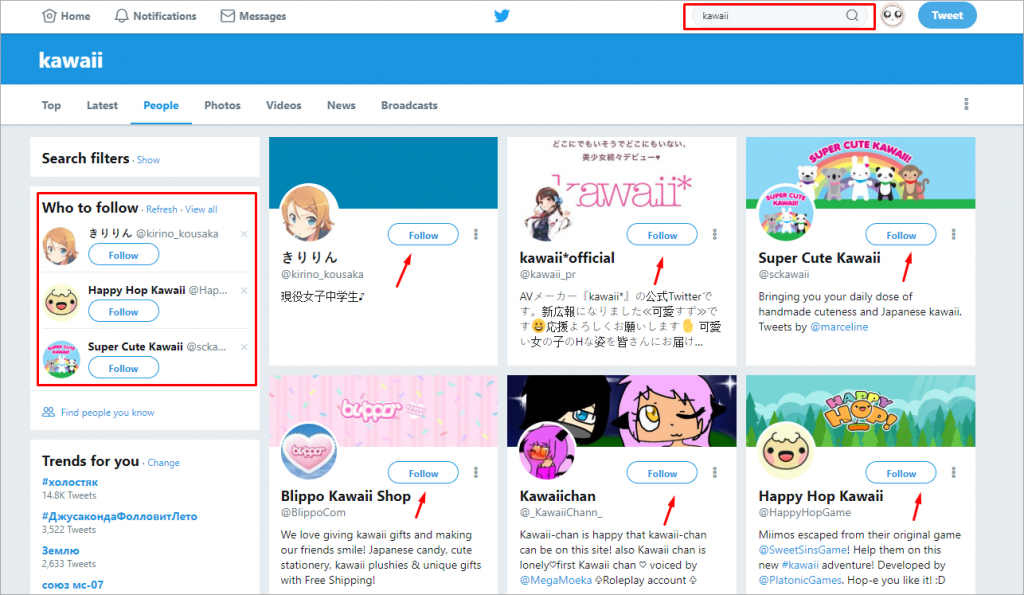 Step 4. Make the first twit
An ideal first twit would invite users to follow you and stay updated about your store news and offers.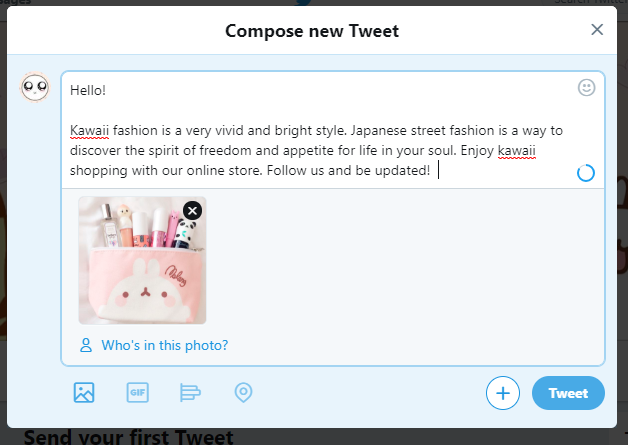 Make next twits trying to find out what your target audience wants to read and what content is favorable for you store promotion. The best kind of twits is onе that tells what benefits your potential customers can get from your products. In addition, alternate such product posts with entertaining twits so your followers can stay interested in your account.
Probably that's it! We've created a profile of your store on Twitter – now it's time to make twits and attract your new customers!
Create and set up your store accounts in social networks: Pinterest
Pinterest is a powerful platform that is used to search for interesting and useful business and hobby ideas or to compile shopping or wish lists. This article will tell you how to correctly create Pinterest account for your store to promote your products with its help.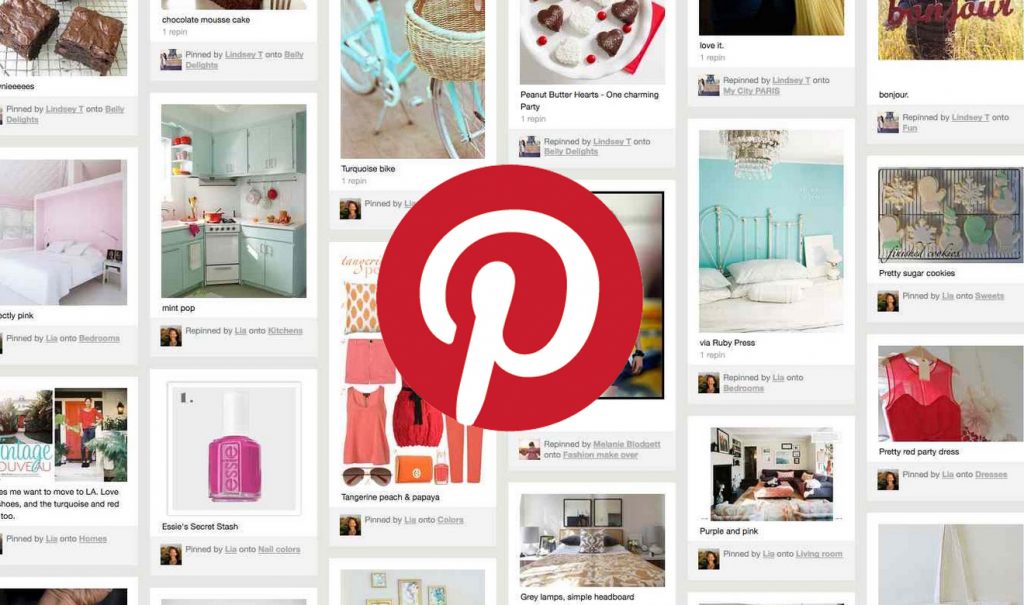 Step 1. Create a business profile on Pinterest
Go here: https://pinterest.com/business/create
Fill in 4 suggested fields: email, password, account name (name of your store) and your site type. Press 'Create Account' button.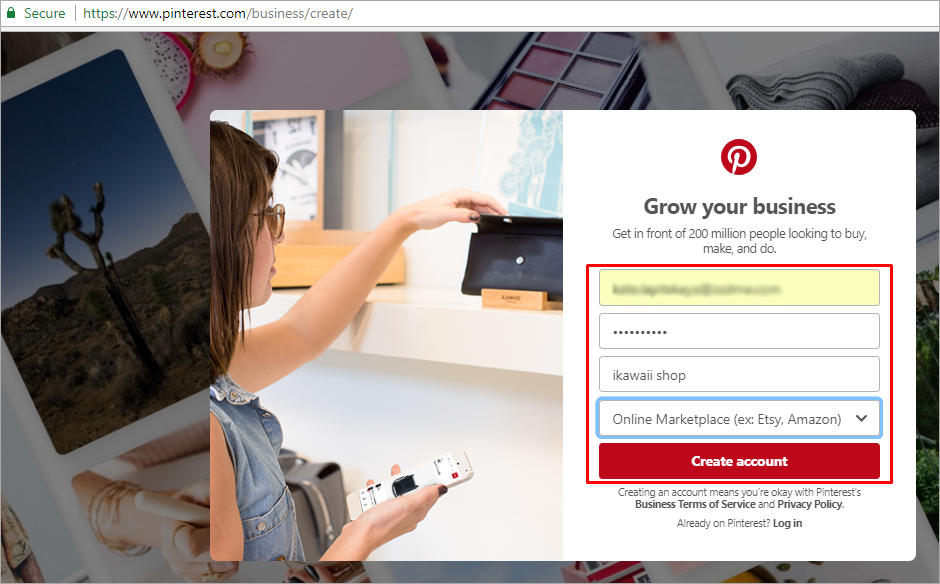 Choose a language and a country. If your target audience is English-speaking, choose English. Press 'Next.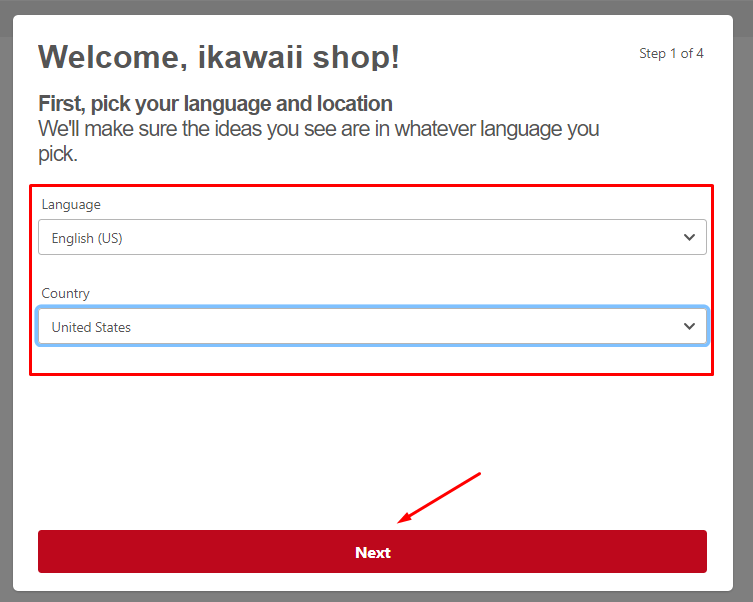 Add the link to your store and press 'Next' again.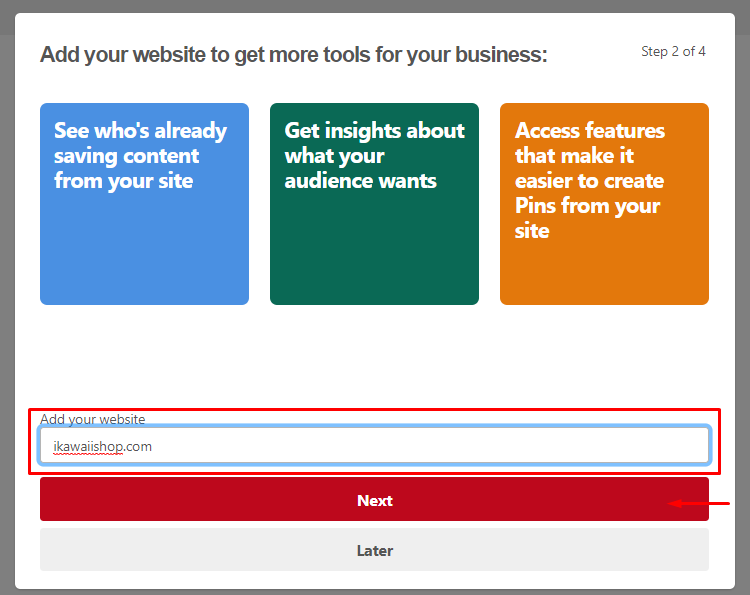 Choose 5 interests – basing on your choice, Pinterest will suggest you some boards (compilation of posts). Done!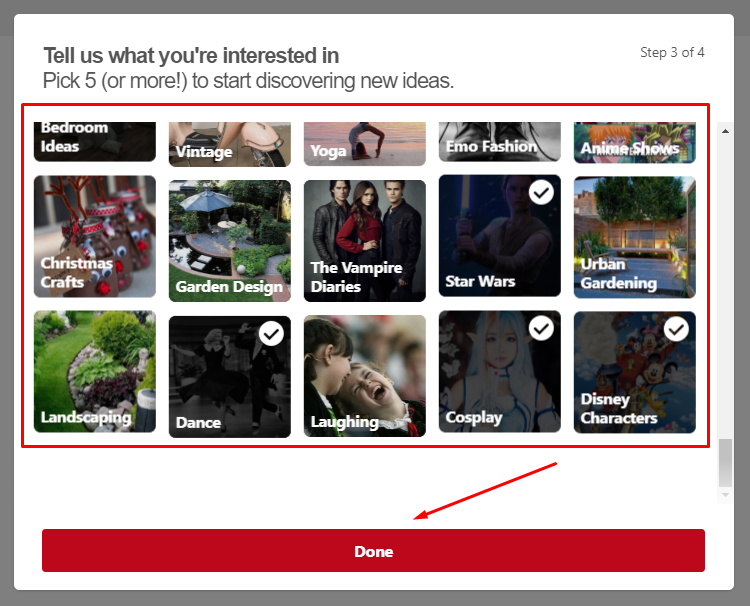 Add Pinterest extension to your browser – just select 'Get It Now'. You can miss this step, of course, but this extension is really useful for collecting ideas for your store promotion on the web.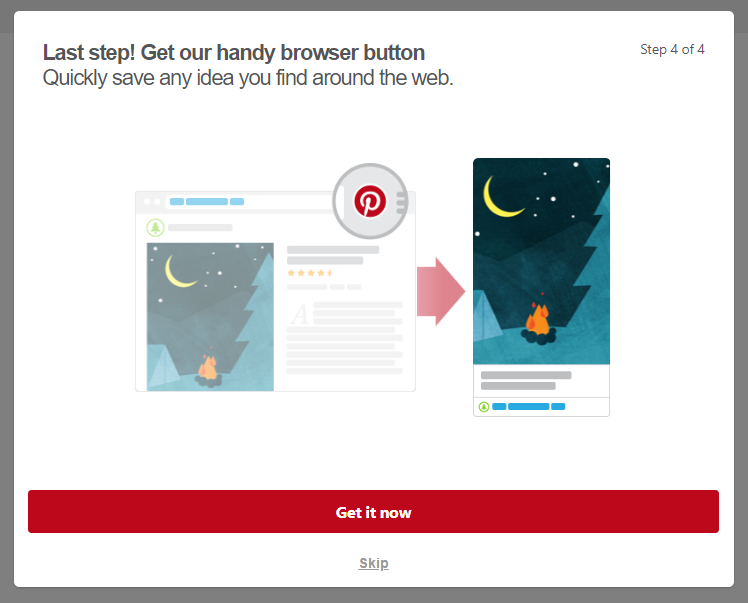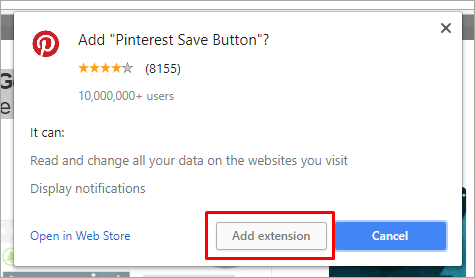 Step 2. Edit your store profile and make it look perfect
Go to the profile settings.

Set up main settings.
Business Account Basics
This section contains all the basic account settings that you can adjust: email, password, language, location, type of account, contact name.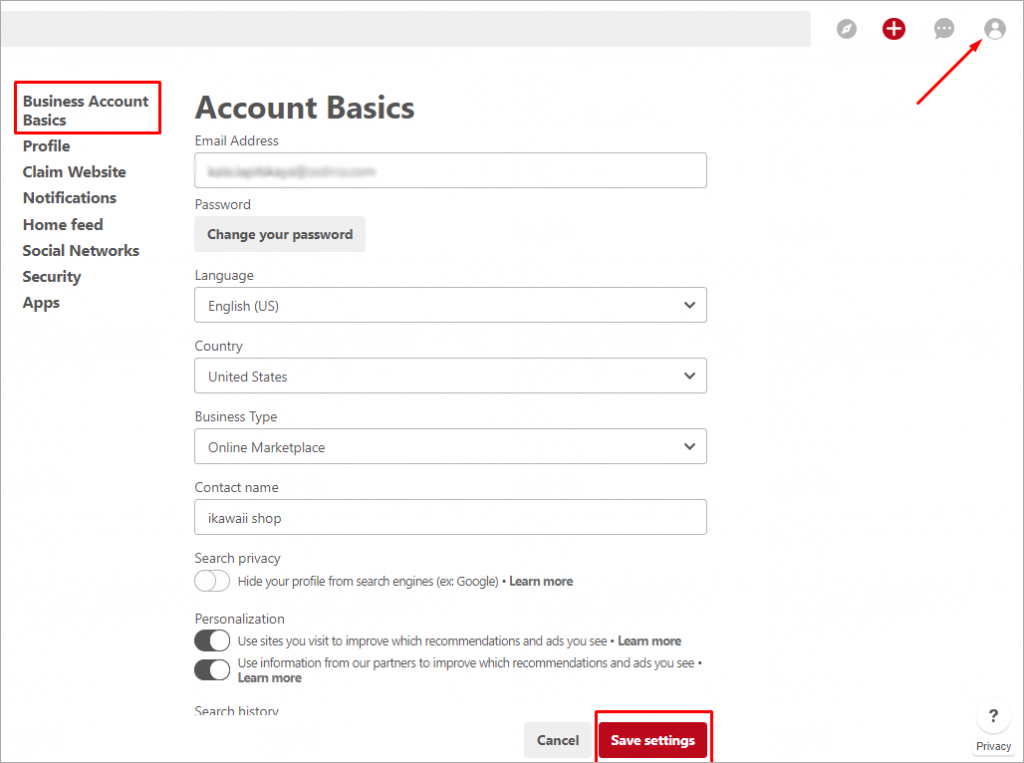 Profile
Here you're offered to change the Business Name, if you like, upload the profile avatar, change the username and set the location.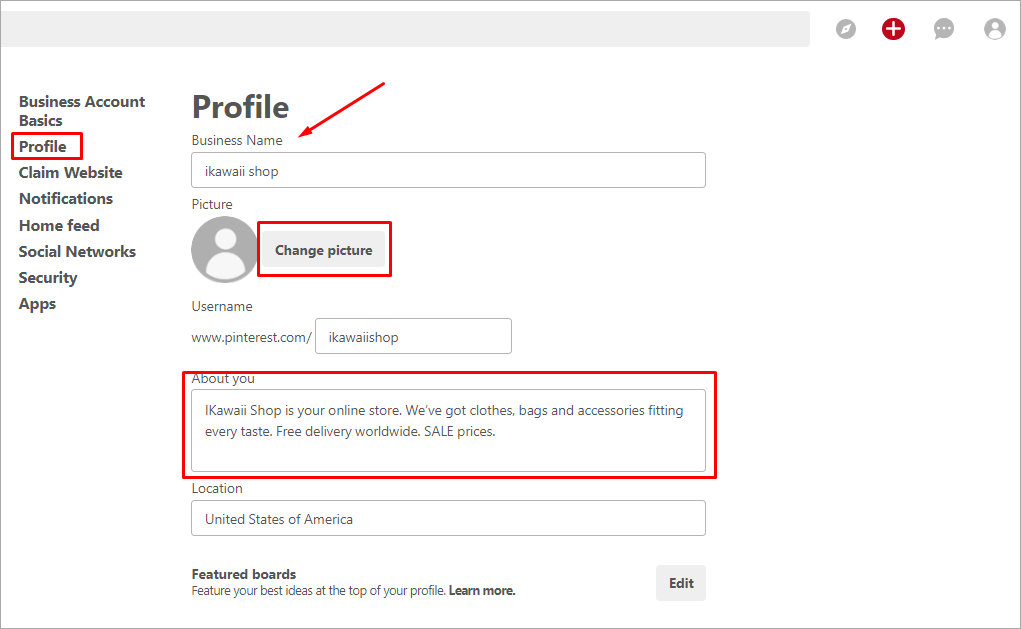 To upload the avatar, click 'Choose Picture' and choose any pic from your computer.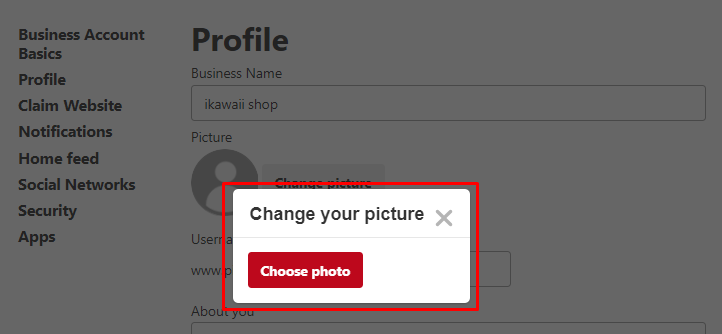 We strongly recommend to use your store logo as the profile avatar – Pinterest users will easily recognize your store's posts (called pins) this way.
To learn more about your store, potential customers usually look through your store profile. So, fill out the 'About you' field for them and mention your store benefits.
Save changes by clicking 'Save settings'. Other profile settings are optional.
Step 3. Create your first board and make some pins.
Posts on Pinterest (pins) are divided into groups by themes. It makes it easier to navigate through the ocean of pins and pick ideas for yourself. To create such a group or so-called 'board', press 'Create Board' button.

Assign a name to the board and click 'Create'.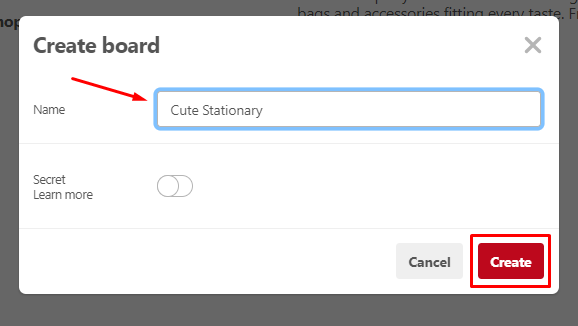 In our Pinterest account, we name boards after our store categories. For example, our demo dropshipping store has such a category as 'Cute Stationery', so we'll create such a board in our Pinterest account and fill it with pins featuring stationery we sell. Such method of organizing pins and boards is pretty effective as your profile visitor can see all your products from one category a once.
Let's flood your boards with pins! For that, go to the chosen board and choose a product photo you want to place here.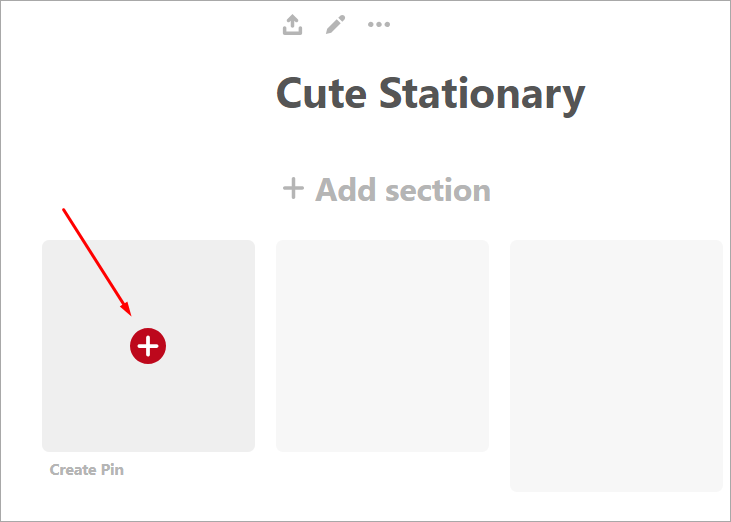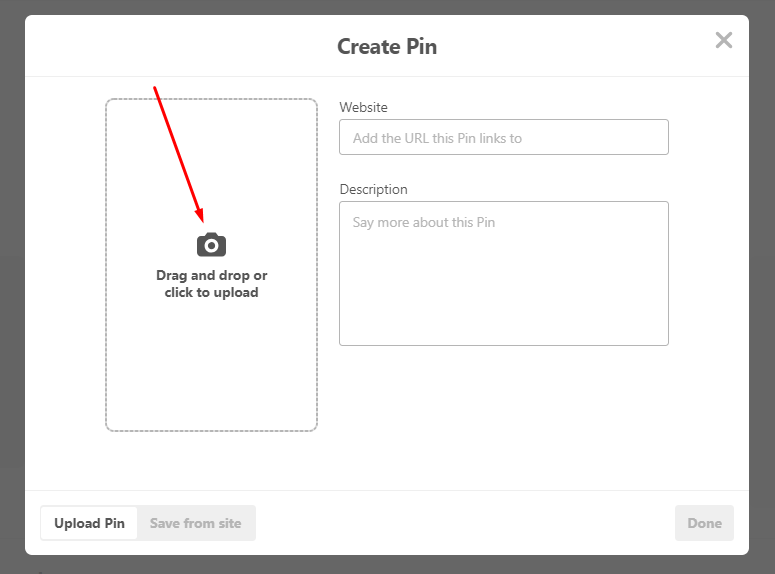 Give a detailed description with keywords: mention product title, price, material (same as on the site), free worldwide delivery. Tell how to contact you to buy this item – leave the link to it.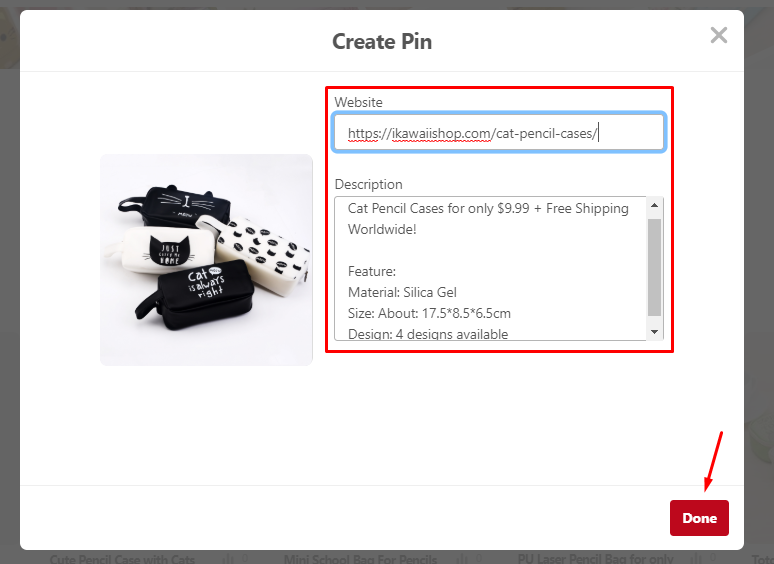 Pinterest recommends publishing vertical images of 2:3 or 1:3.5 ratio and the minimum width of 600 px. These pics do show up.
The majority of Pinterest users are women – 80% – and 50% of them are moms. So, keep in mind that they are your active audience here and present your account content in a relevant way.
After you've added several pins to your board, they will make your profile 'head photo'.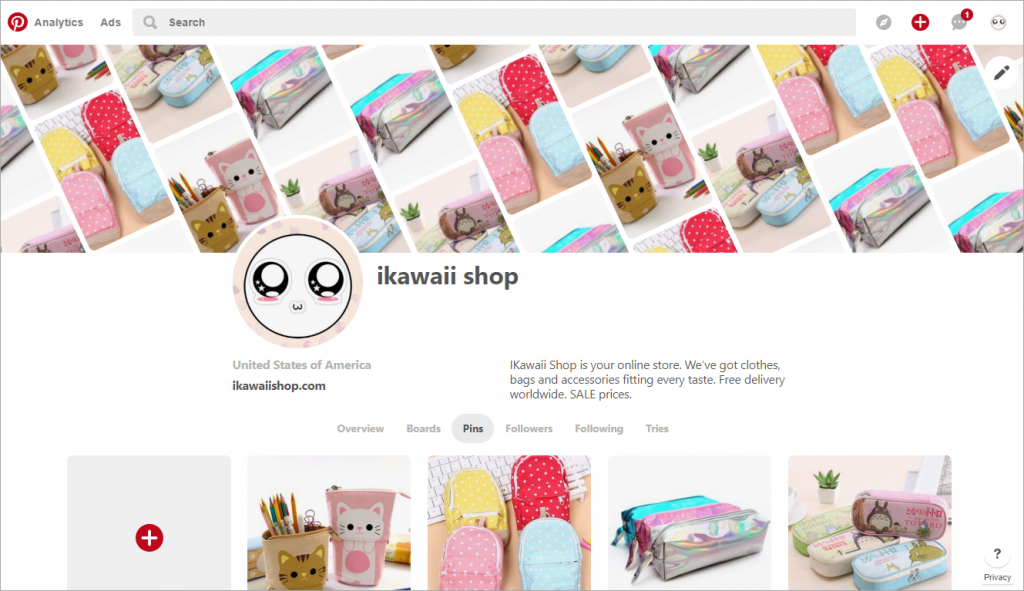 Step 4. Verificate your shop account to collect data for analytics.
Pinterest opens up an opportunity to get statistic data on how users interact with your pins and boards. Look through that data regularly. Here's what you can learn from it:
Which boards and pins are most popular among your profile visitors
Which of your pins people save to their boards
Who is your target audience on Pinterest – gender, age, location, interests
Which devices people use to save your pins
To get info on click-through to your shop, start this easy verification. Go to 'Analytics' tab and select 'Confirm Website'.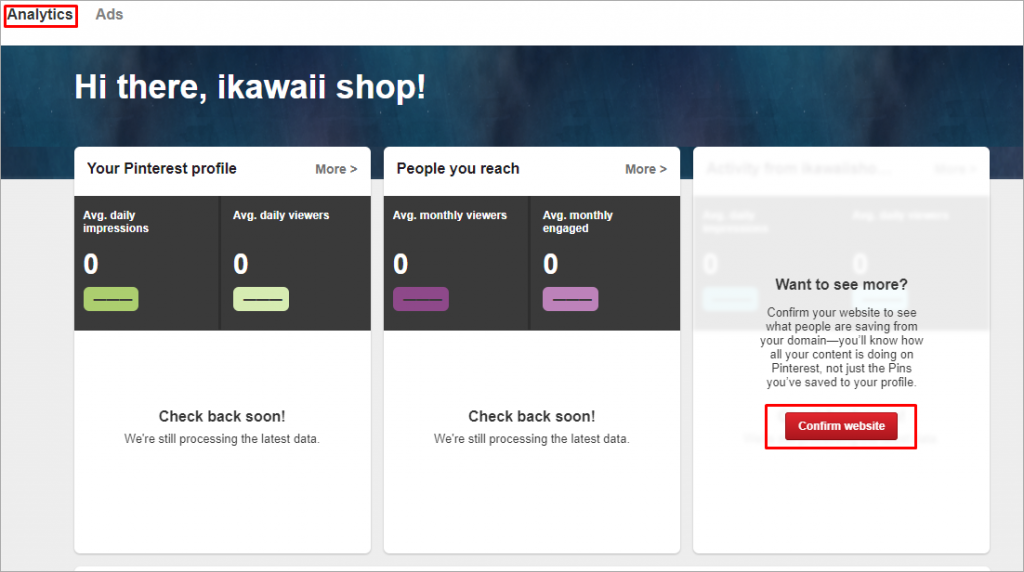 You'll see the script to paste to your store code (don't be afraid, we'll tell you how, it's really easy). Copy this script.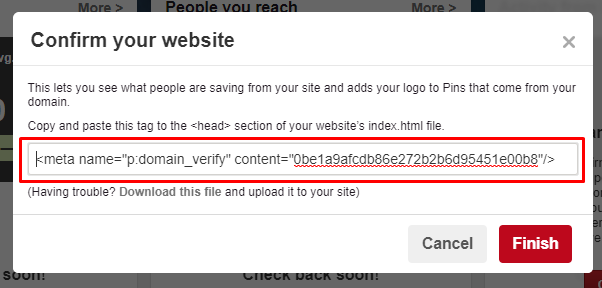 Open Dashboard of your store and go to 'Customization'.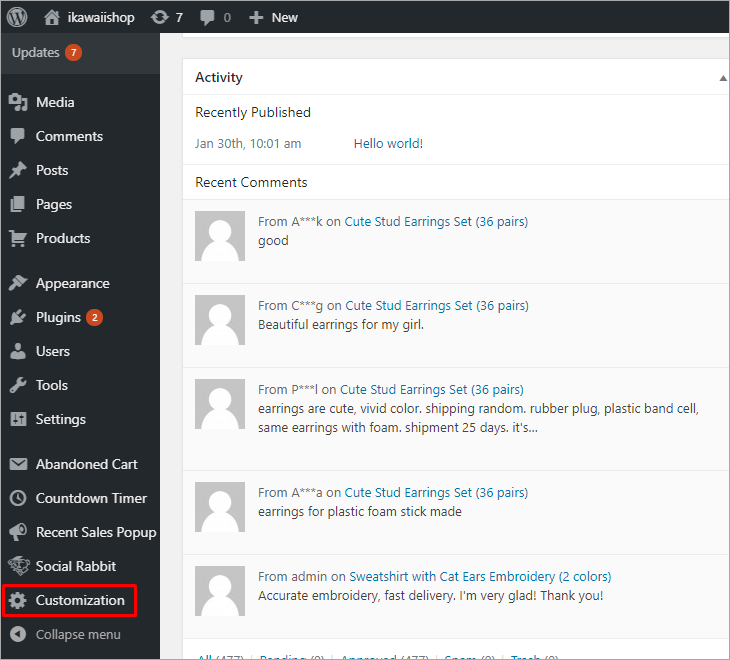 Choose 'Head' section and paste the copied script to the field as shown below: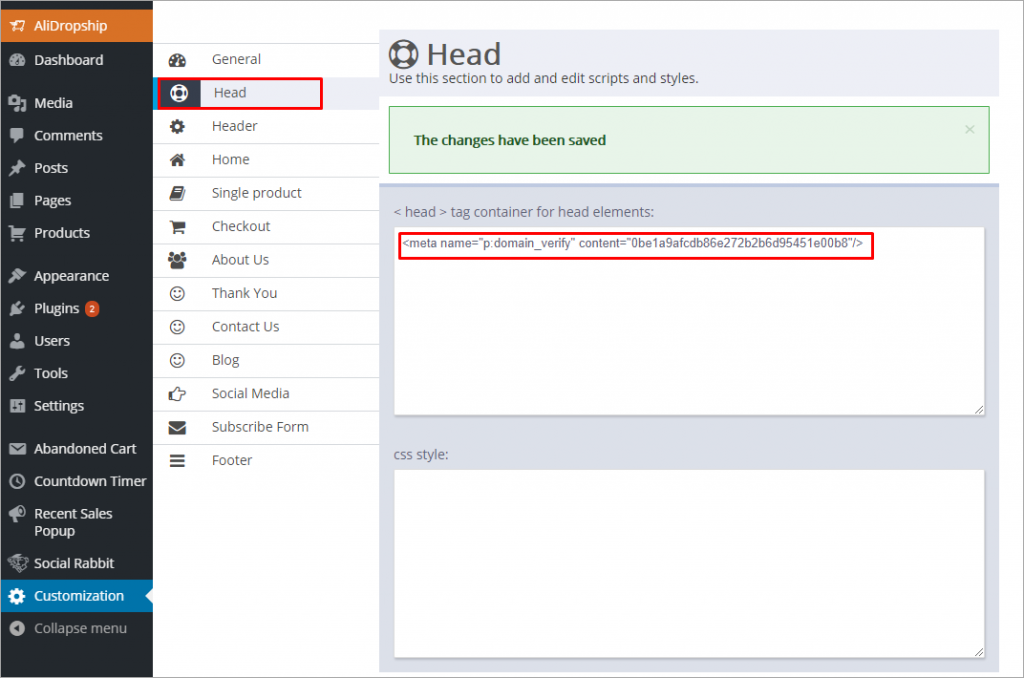 Then refresh Pinterest page of 'Analytics' section. If site verification window is gone, the verification was successful. Promote your store account basing on 'Analytics' data.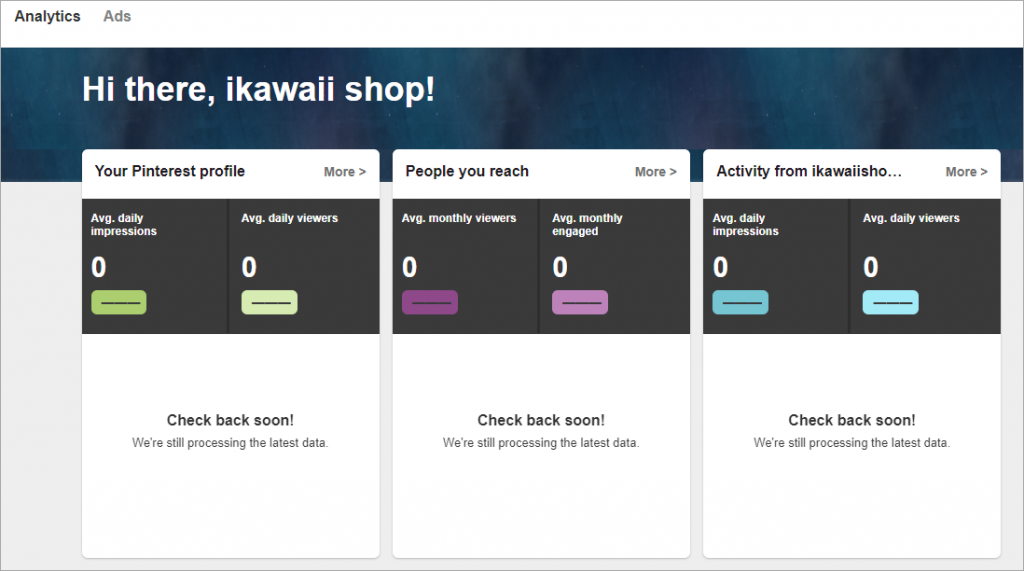 Voila! Your store Pinterest account is ready and welcomes visitors! Create boards, fill them with pins manually or use Social Rabbit Plugin to make this process automatic. Pinterest can help you to reach the audience that was uncovered, successfully promote your store and get more sales!
 Create and set up your store accounts in social networks: YouTube Channel
One of the most effective ways to promote your store is to create a YouTube channel. This article will help with it!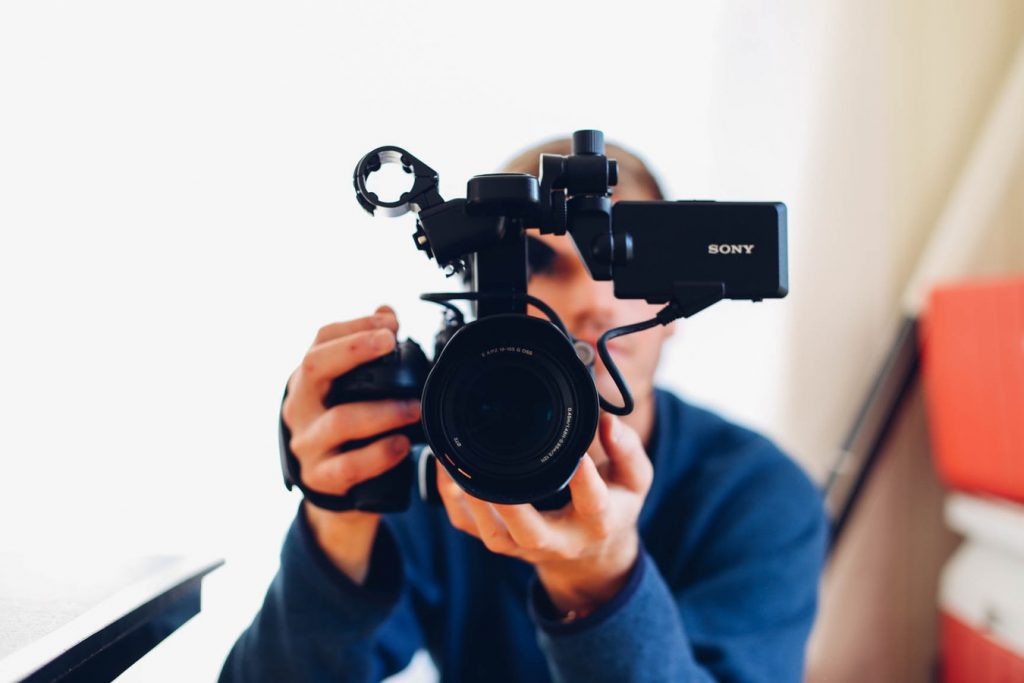 Step 1. Sign in a Google account.
Go to youtube.com and click 'Sign in' in the top right corner. If you already have a Google account, just enter your email and password. If you haven't one, create it following instructions.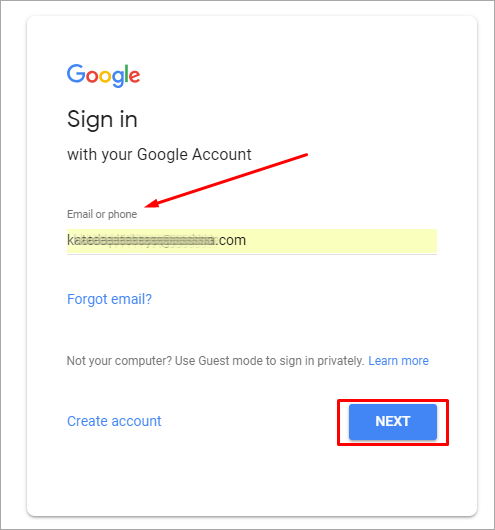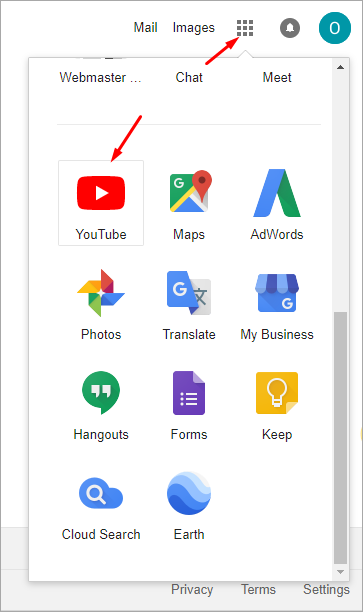 Step 2. Create your channel.
After you've signed in, click 'My channel' in the drop-down menu on YouTube.
You'll see the channel creation form where you can call your store whatever you like. It's better if your store name coincides with the name of the channel.
Press 'Create Channel' button. Here it is – your new-made YouTube channel!
Step 3. Edit your channel
'Customise Channel' button will be of help – click on it.

As an avatar, you can use one of the suggested images or upload a pic from your computer. The avatar could feature your store name.
Don't ignore the avatar picture: it is connected with your photo in Google+ by default. You can replace it with any other pic or logo (of course, it would be perfect if this pic reflected your shop idea).
Choose the channel art – the page will become more appealing this way.

The recommended resolution is 2560*1440 px, but it's optional. Pay attention that the cover will look different on different devices. On tablets and smartphones, the cover is cropped up to 1546*423 px in the middle – that's why you have to make sure the cover you upload is of the right ratio.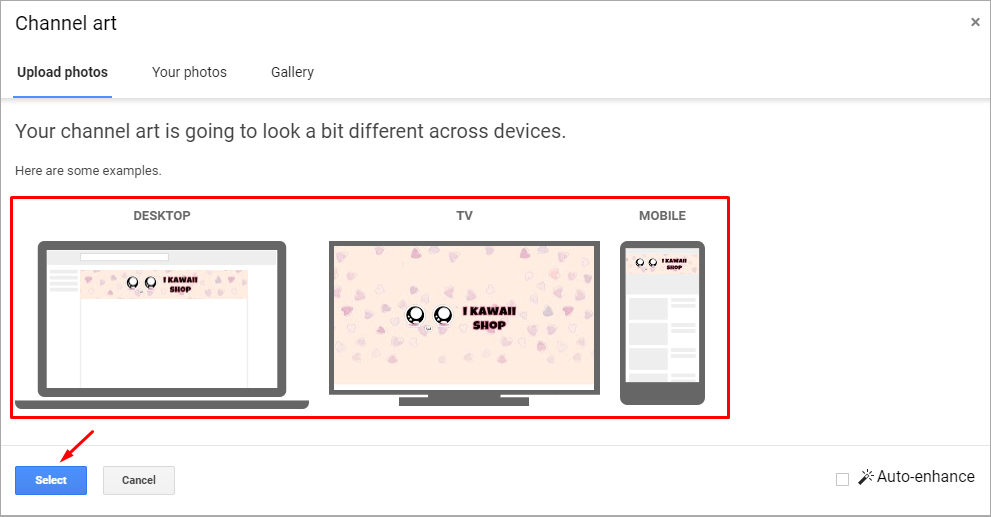 Step 4. Add channel description
Click 'Add description' in the 'About' tab. Write something about your store and your channel, then click 'Done'.
Upload a video about your store, reviews on your products or just your store theme-related videos – people really like the visual content!
 Create and set up your store accounts in social networks: Connect site & accounts
After you've created social media accounts for your dropshipping store, it's time to connect them with your site so your visitors could easily reach your store profiles on Facebook, Instagram, and other media. It's so easy!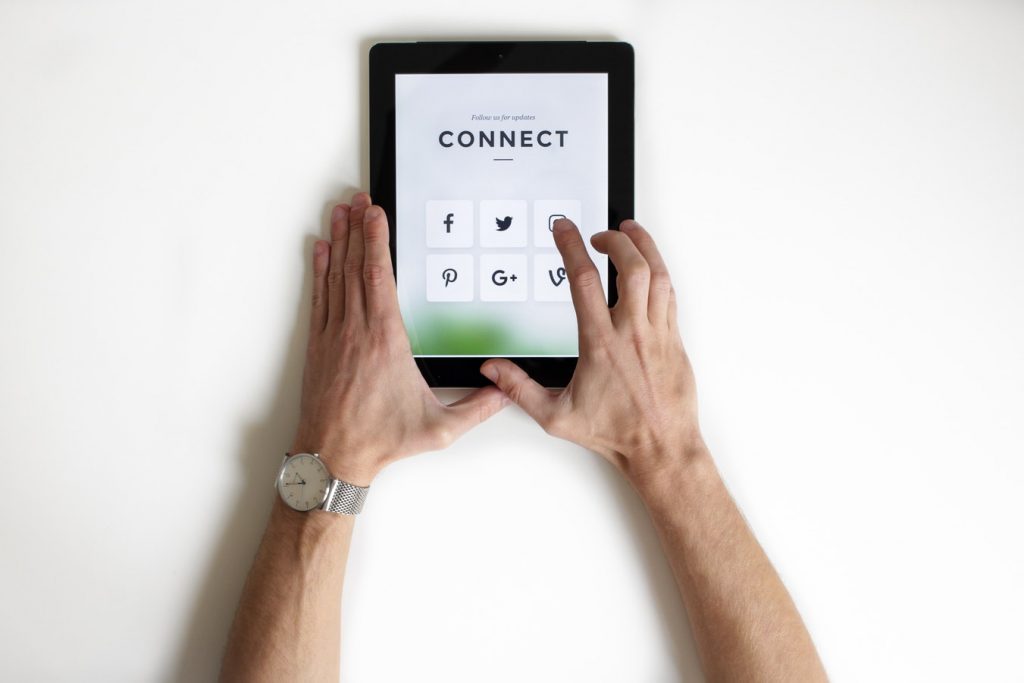 Go to your store Dashboard, 'Customization' section. Choose 'Social Media'.
Paste URL-addresses of your store social media profiles on Facebook, Instagram, Twitter, Google plus, Pinterest и YouTube into the fields.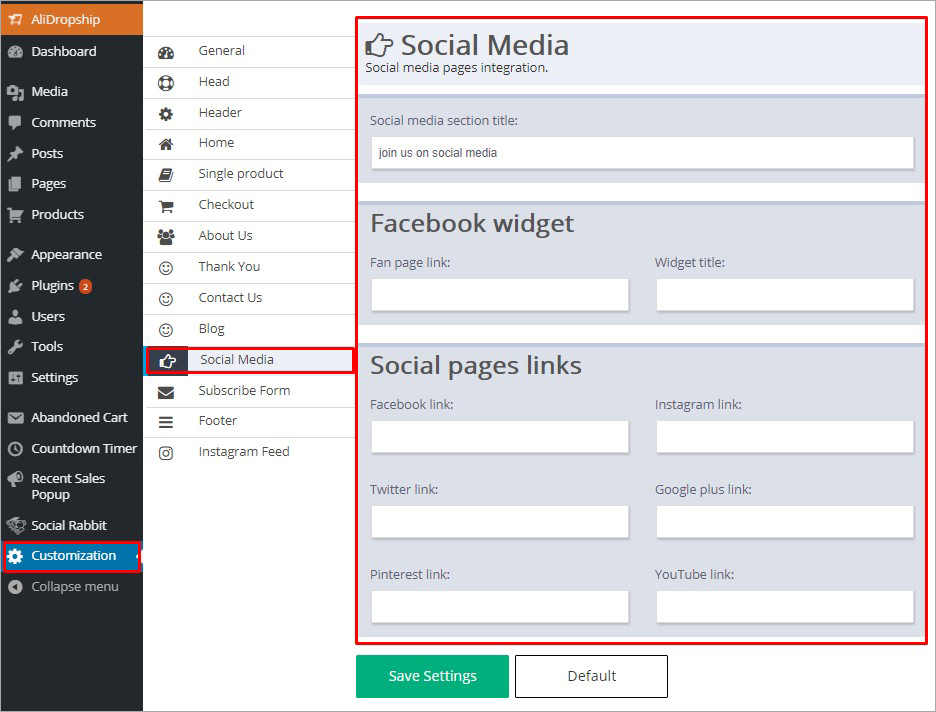 Now people can visit your store accounts by clicking on social media icons in the footer of your site. Actually, that's it!

Let's look at connection process more closely.
Facebook
Go to your personal profile and choose the Business Page you've created for your store.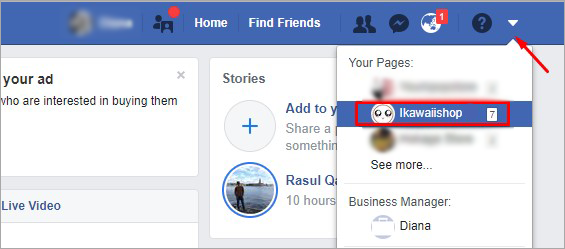 Copy the link of Business Page.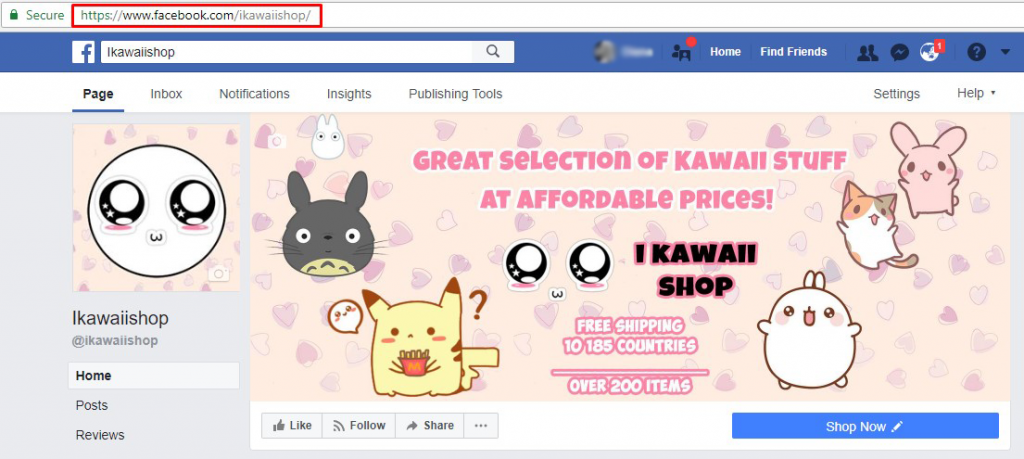 Paste it into 'Facebook fan page link' and 'Facebook widget' fields (in Customization, Social Media).


Instagram
Go to your store profile on Instagram and copy the link from the URL-bar.

Paste it into 'Instagram link' (in Customization, Social Media).

Twitter
Go to your store Twitter profile and copy its link.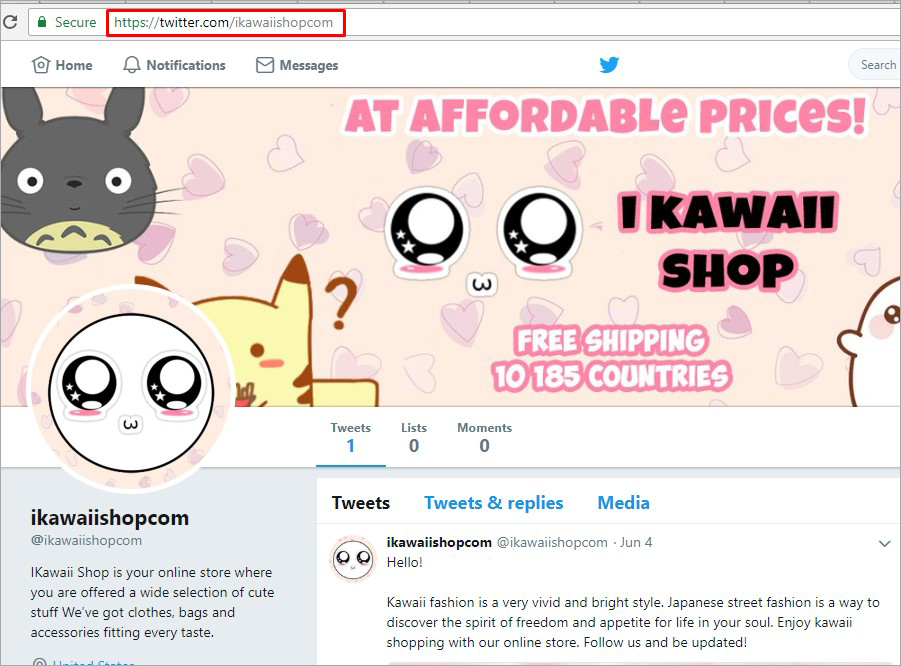 Paste it into 'Twitter link' (in Customization, Social Media).

Pinterest
Go to your store profile on Pinterest and copy the link from the URL-bar.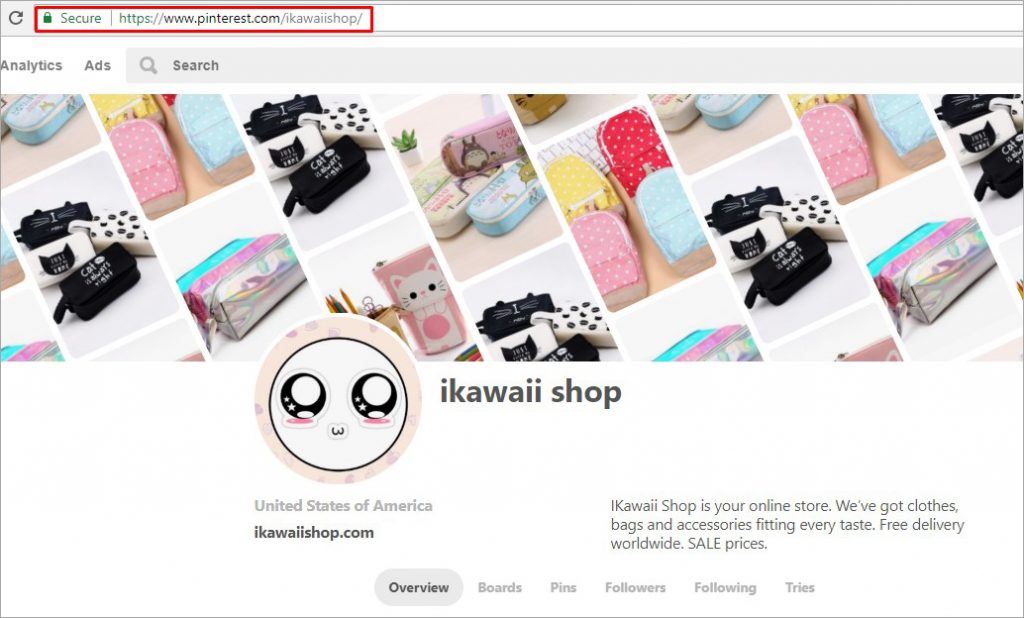 Paste it into 'Pinterest link' (in Customization, Social Media).

YouTube
Go to the YouTube channel of your site and copy its link from the URL-bar.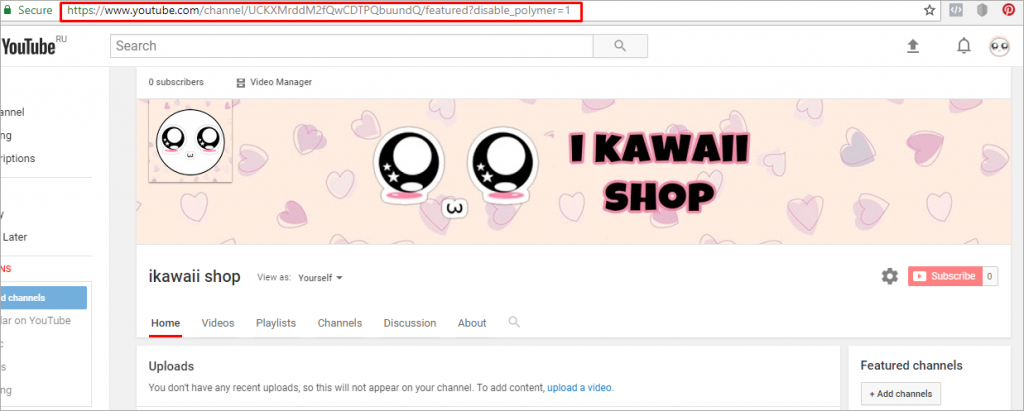 Paste it into 'YouTube link' (in Customization, Social Media).

If you don't have any social media accounts of your store or don't want to add this or that social media icon, simply omit a link field.
Save settings and check if everything is alright. Done!
… You Are Just One Store Away